Sisimiut: Some First Impressions
Sisimiut is a town of ~5,500 people. Everything but the airport is within walking distance, and there are no roads out of town, so the number of cars and taxis is surprising – apparently it was quite different just 15 years ago. I prefer bike for many reasons, though what I've seen so far leaves me concerned about traffic safety, especially during winter. I actully got myself a bike helmet, which I wouldn't consider in Denmark. Besides drivers who are not exactly careful, the other challenge I see coming is the combination of icy roads and steep hills all over the place.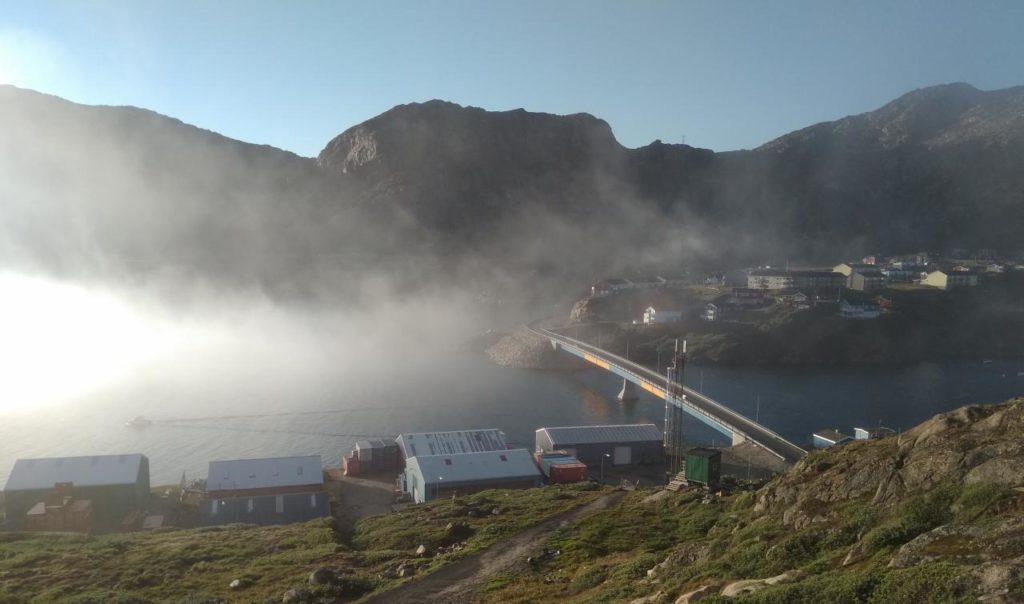 Greenland's longest bridge, going to the airport and a new residential area under development.
Greenland is a place of beauty and challenges. It's brightly colored buildings on a backdrop of spectacular scenery. It's also dumps where trash is left uncontained and unfiltered waste water outlets. I'll stick to showing the first part.


Getting supplies to a small, remote community is expensive. Vegetable prices reflect this, and you'll want to consider shifting towards cheaper frozen vegetables. Potato prices in particular are going to hurt until I get used to it. This is $2.10/lb. Fortunately they're often on sale. Unfortunately, when they're on sale they often don't have any. That's true for much more than potatoes, by the way.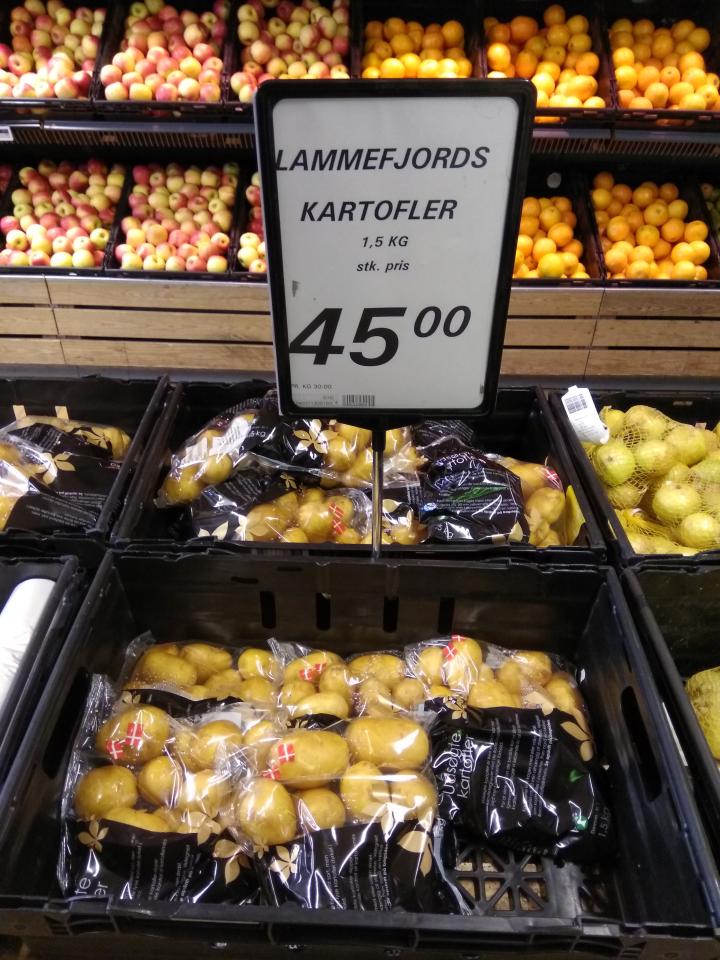 This should eventually be of interest to me: Sisimiut just got a nice artificial football pitch.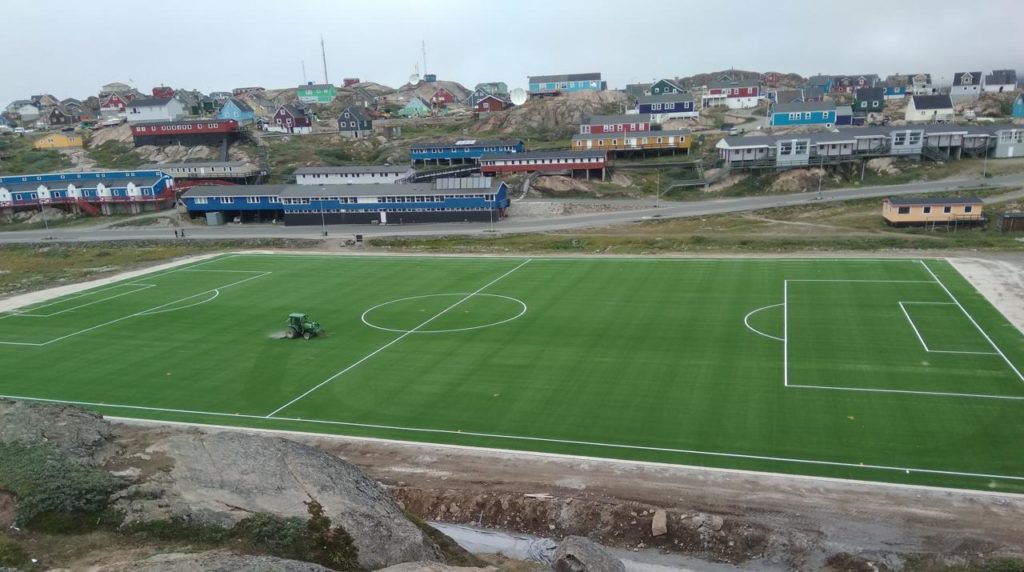 Now for the nerdy stuff… I once noticed a 120° parhelion in Alaska. Apparently they're not rare, just hard to spot. Well, here I've already seen them twice, one of them too bright to go unnoticed. Perhaps random, or perhaps somehow good ice halo displays are more frequent up here.


The aurora – I'm looking much forward to spending some time observing it and get a sense for how it compares to that at lower latitudes. What I've seen so far looks good; here's a quick timelapse (Aug 26 2018).
Finally, a couple of harbor traffic timelapses – just for fun.
2nd Hike: Nasaasaaq
Another popular hiking destination is the hallmark of Sisimiut and the highest point in the immediate vicinity of town: Nasaasaaq (Kællingehætten, 784m/2,572ft). It is a longer and harder hike than Palasip Qaqqaa, but it is absolutely worth the effort and doable for most. That said, the final ascent of the 150m cone at the top does deter some people as you need to climb two ropes and pass a relatively narrow and exposed section near the top. You certainly need to be careful and pay attention climbing the cone, particularly on the way down – otherwise the risk of losing your footing and ending up in hospital is quite real. Another risk on the way down is that you can follow a number of paths, a few of which are blind, ending on steep cliffs. Do turn around before you get yourself into trouble! We were lucky to meet a helpful local resident on the way up and were in good hands the rest of the way. Again, the weapon of choice on this hike was the smartphone for quick, easy panoramas, so image quality isn't top notch – but good enough to show that it's gorgeous out there. This was another of the few days with great weather this summer (August 12) and not too many bugs either, making for a very enjoyable hike.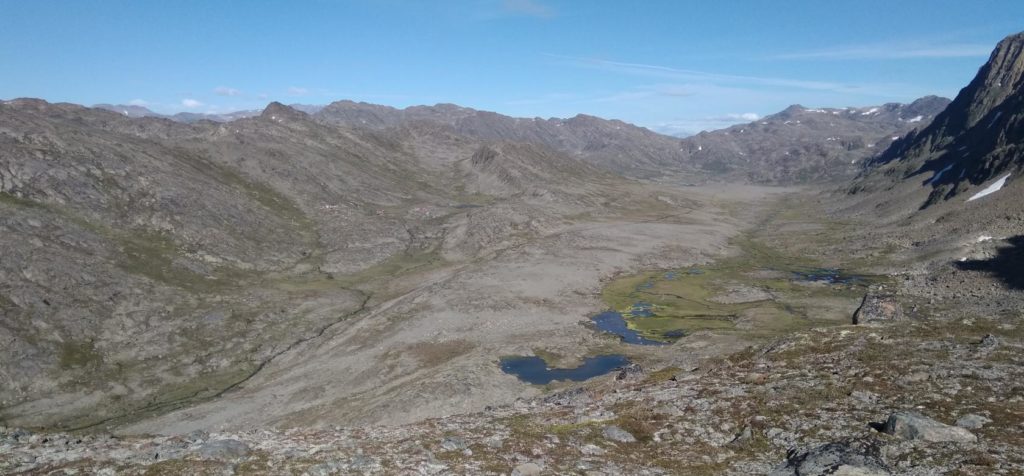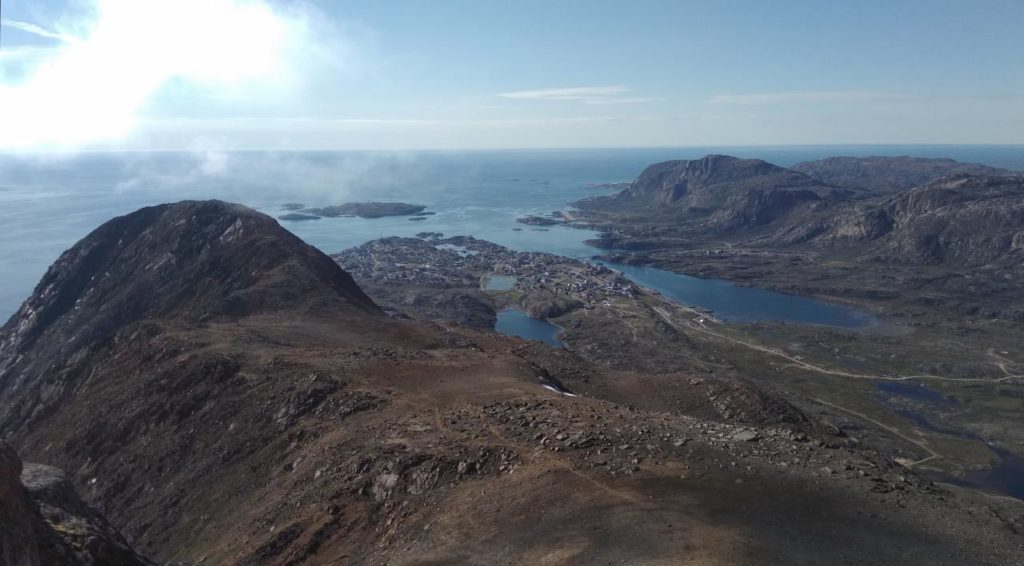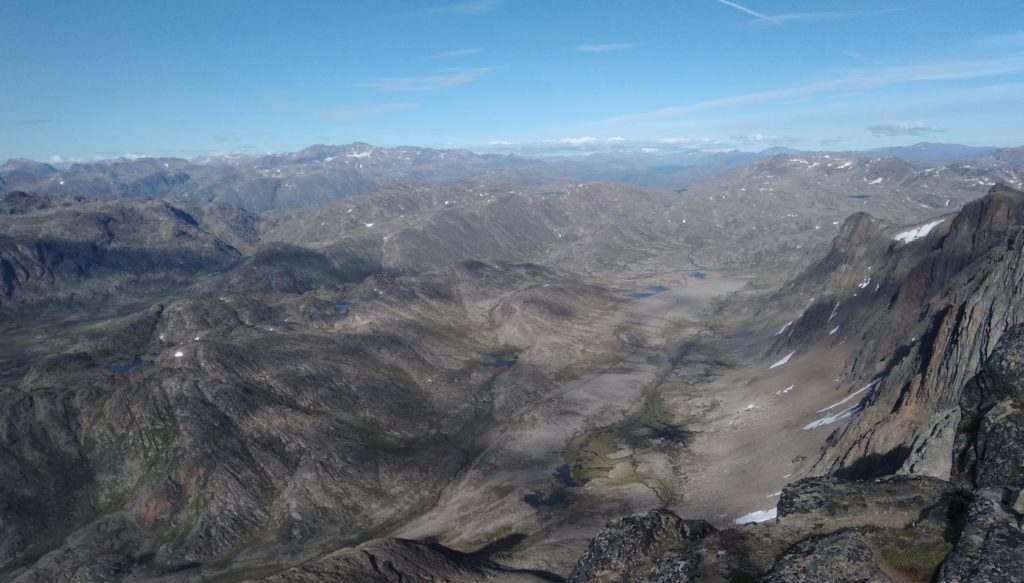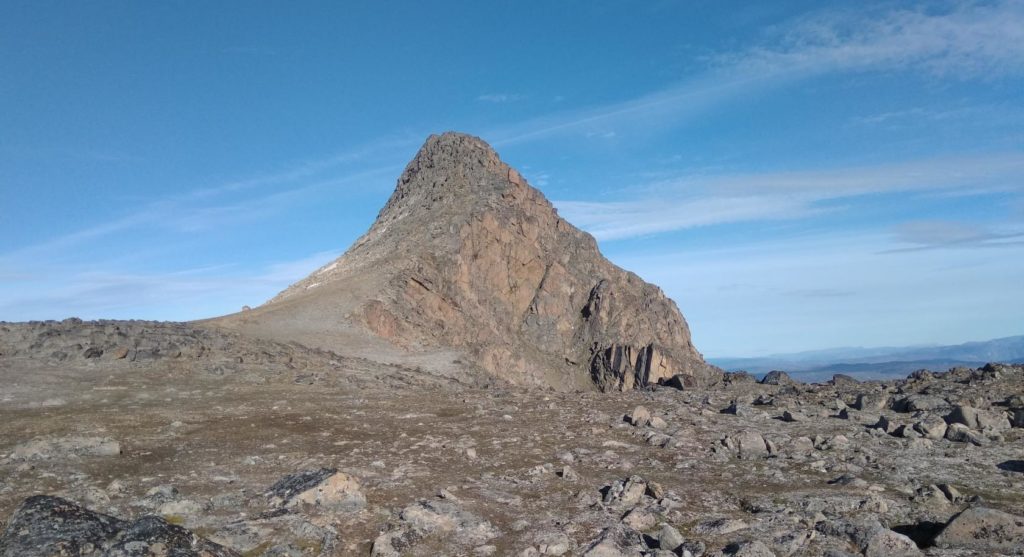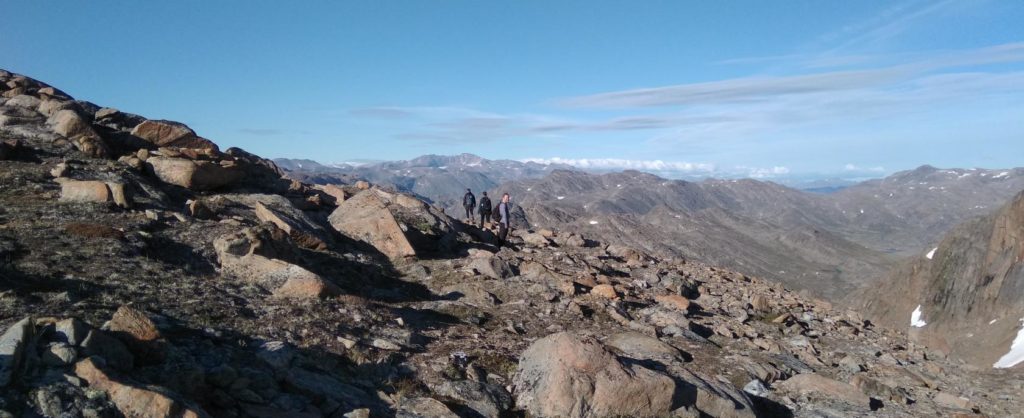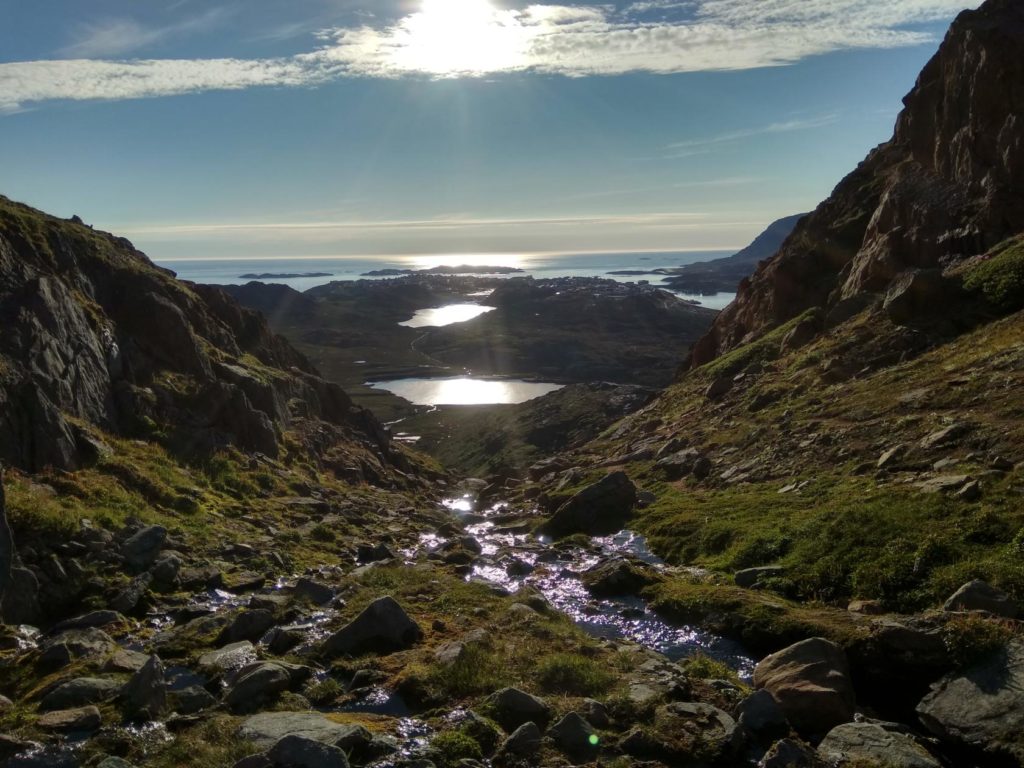 At the top we met a drone pilot in action, shooting footage for Visit Greenland. He was kind enough to snap a couple of group photos and email to us.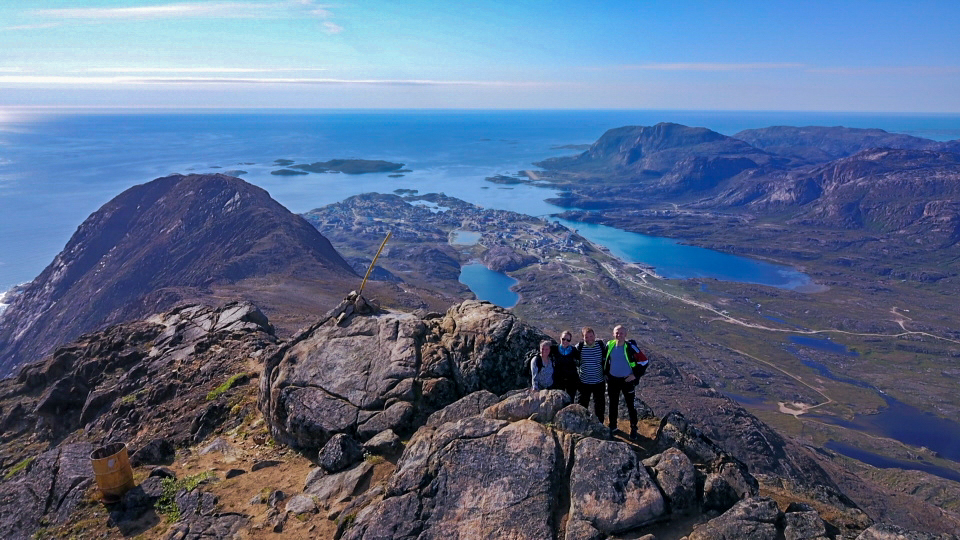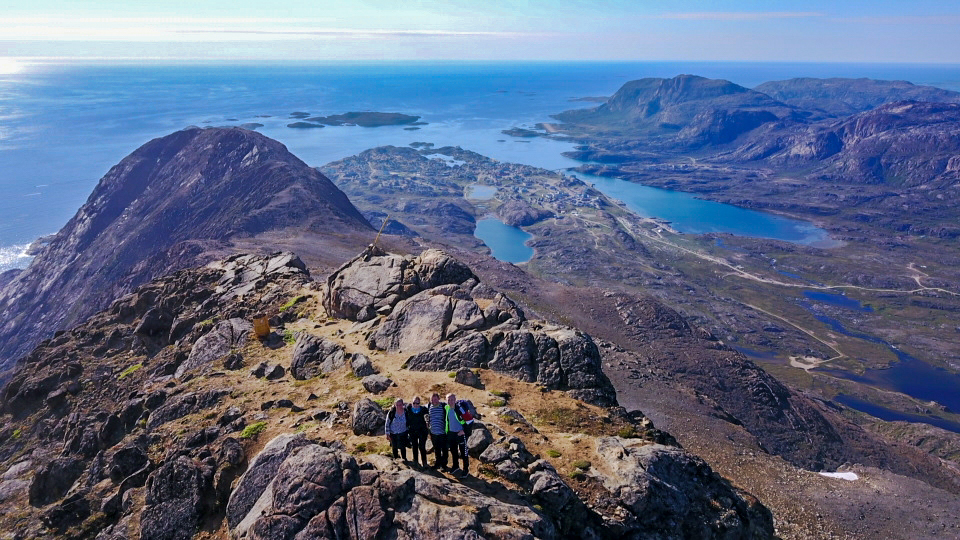 1st Hike: Palasip Qaqqaa
An obvious first target for hiking around Sisimiut is Palasip Qaqqaa (Præstefjeldet or Priest's Mountain), the highest hilltop immediately north of town (544m/1785ft). Easily accessible from the road to the airport and with fantastic views that just keep getting better as you climb in altitude. It's a relatively easy hike in good weather, though it does of course take a bit of stamina to make it to the top. This is from August 5 2018, one of the few days with excellent weather here this summer. The following are just quick and easy smartphone panoramas – forgive the so-so image quality and some obvious artifacts. I promise I'll post better quality stuff when I get more time with my camera. 😉







Three weeks later I did the same hike and took the time to shoot a timelapse at the top, showing the fog/clouds that is often shrouding these hilltops when winds are from the north. Remarkably, even though it's clearly windy it was actually quiet at the top! You only had to move to the edge of the hillside to the north to pick up the wind, and that's how I realized what was happening. The strong wind is forced up along the steep hillside and "overshoots", hence creating a "bump" (wave crest) over the hill that blocks the horizontal wind right at the top, diverting it to higher altitude. A pleasant surprise!
Astralis Productions moves to Greenland
Astralis Productions was born out of inspiration from remote arctic nature and the aurora. I've now spent 5 years in Denmark during which I released Beneath the Aurora, but couldn't shoot any new production-quality footage – something I've missed a lot. So I'm very happy to announce that I grabbed the opportunity to move to Greenland, where I just started as a high school teacher in Sisimiut.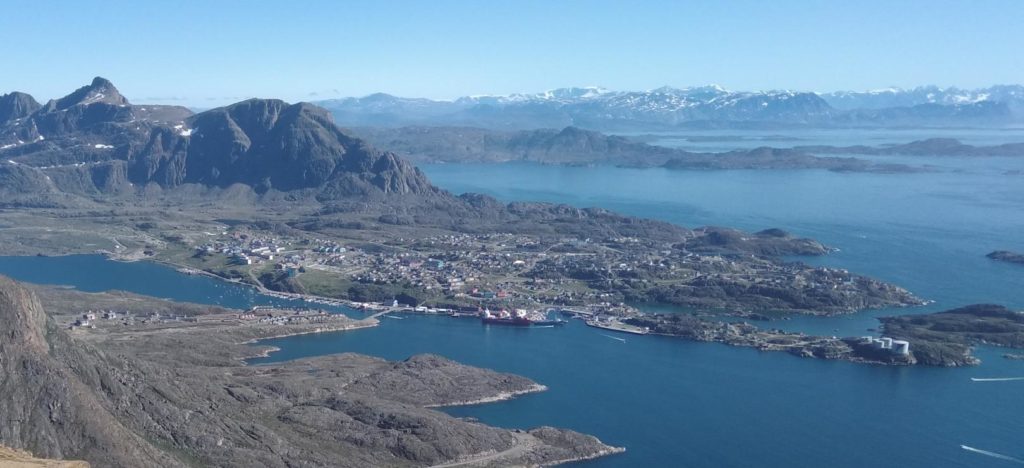 Sisimiut is located on the west coast of Greenland just north of the arctic circle and 160km/100mi from the ice sheet. That is just about the farthest you can get from the ice sheet in Greenland at all, and it is access point to the largest backcountry area in Greenland. You'll have to go by boat, snowmachine, dog sled or foot/ski to enjoy it though as there are no roads outside a few miles from Sisimiut.
Because the magnetic pole tilts towards Greenland, Sisimiut is much farther north magnetically than I was shooting footage in Alaska. In fact, in Greenland it is opposite to (almost) everywhere else in the northern hemisphere: The farther south you go, the better the aurora (generally). I'm quite curious to see how frequent the aurora appears and in what ways it is different from the aurora farther south, but having just had my first glimpse of the aurora last night I can already say that there will be plenty of opportunities to shoot great footage – if only I can find the time for it.
I'm here as a teacher first, photographer second. I expect at least the first year of teaching to be very demanding, and I also need a lot of equipment I don't have money for yet, so there's no new film right around the corner. I'm hoping to gradually start to collect footage that could be used in a production down the road – perhaps in a few years time.
Meanwhile I'll use this blog as a more personal outlet for posting stories and photos to share with family and friends – but anyone interested is of course welcome to tag along and see what I'm up to here in Sisimiut.
Hello World!
Welcome to the new astralisproductions.com!
A small update was needed in the shopping cart, then one thing led to another, and now the whole website got a complete overhaul. Not like changing a WordPress theme, but like building a whole new website. It has been way too much work, especially considering the website was essentially dead before, and there's no knowing whether the new version will get significant traffic.
At least it can only get better. The site was created to sell Beneath the Aurora and launched Nov 2014, but it hasn't attracted any traffic, other than a couple of short periods after some positive press for the film. This is a logical consequence of failing to update the site with other content and not having funds to advertise the film. Ideally, advertising would lead to sales to cover the cost, but that's not how it works for a new film by an unknown artist. Add to that, advertising and promotion isn't my cup of tea at all. It's against my nature, and the film hasn't exactly been pushed very hard.
Nevertheless it has sold around 3,000 copies. The feedback has been highly positive, which does encourage an effort to reach more people. Given my qualms about advertising, adding some popular and useful content to the website seems like a good alternative. However, the main motivation isn't sales. The website (or the film) will never generate income that could justify the amount of time spent.
What I'm aiming to build is a website that can become a go-to place for anybody wishing to learn about the aurora. In particular I wish to inspire people to arrange experiencing it for themselves, so part of the new content will be a travel guide to help plan a trip to the arctic. Expect material to be added gradually over the next months/years.
As for this blog, I admittedly don't see myself as much of a blogger. But now that it's here I may get ideas for using it, especially if I end up doing more art projects. Don't expect frequent updates, but check it out occasionally to stay on top of what's new with Astralis Productions.