When You're in Luck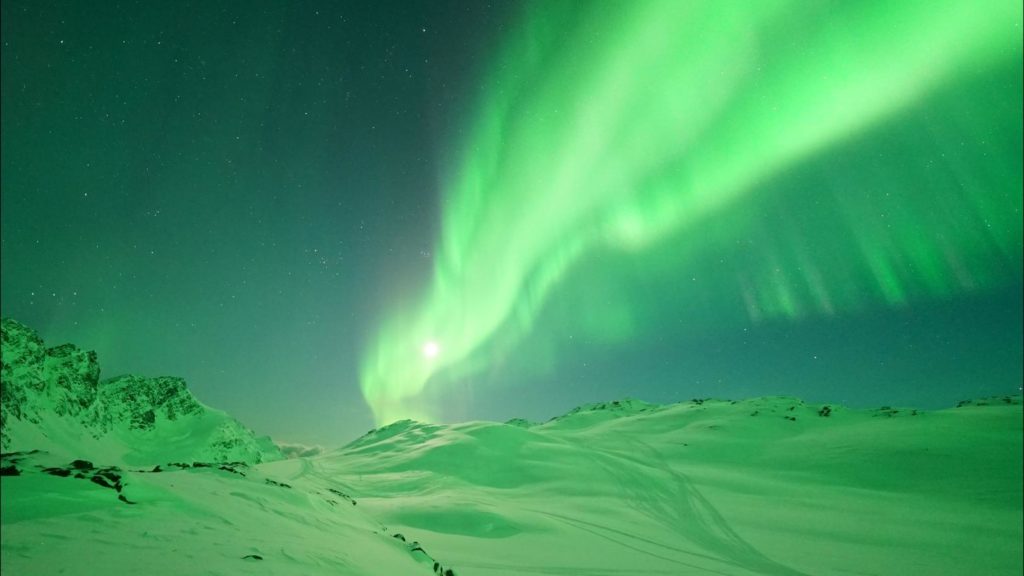 I still haven't been able to spend enough time under open skies to get a solid feel for what the aurora is going to do at these latitudes. Last week I made quick trips out Thursday and Saturday in response to promising solar wind conditions, but from Facebook posts I learned that the really good aurora was Friday evening while I wasn't paying attention.
This weekend I wasn't planning to go out, but an eager friend called me, excited about the aurora he was watching. I went outside to check and realized he had not seen active aurora yet. He suggested to go on a quick snowmobile trip, and though it wasn't exactly what I should be doing the solar wind data looked good. Good enough for some activity that would surely make my friend even more excited, and a crescent moon pretty much guaranteed the ability to shoot some beautiful footage. I couldn't pass it up, and off we went.
We stopped just a few miles out of town, went up a small hill and got my camera ready as the aurora started showing promising signs. As I started recording (video) it became obvious a substorm was underway.
During a substorm bright and active aurora starts to the south and then moves across the sky to the north, typically in 15 minutes or so. That means you start out having the camera facing south, and then at some point you better point it straight up (well, towards magnetic zenith, strictly speaking, which is almost straight up here) where the aurora may form a magnificent corona (rays appearing to emerge from magnetic zenith). When to move the camera is a tricky decision. Sometimes bright aurora jumps overhead suddenly and unexpected, and other times it gets stuck to the south and puts on a good display there before dimming and moving back south.
Then on the rare and lucky occasion it moves overhead, gets stuck, moves back south and then whips back across the sky again. In that case you may get active aurora overhead twice in less than an hour, whereas other nights you can wait all night and it just never happens. This was one of the lucky nights.
I don't typically include audio on my videos because it doesn't add to the footage. On the contrary, really, because the audio is poor – and often the comments are too. I'm making an exception here because even though the video looks great, it's hard to convey just how jaw-dropping it is to witness a display like this live. The lens used captures a 114° field of view on a full frame (slightly less here because video doesn't use the full sensor), meaning what you see here fills the human eye field of view (notice the Big Dipper).
As the aurora quieted down somewhat I figured I'd make a timelapse with the view towards the moon. Then the aurora flared back up, making for a technically poor shot as I didn't expose correctly for the aurora at all. However, it does show something I love: How the landscape is lit up in green by the aurora.
My friend was excited indeed. Minutes before the second overhead video was captured he suggested to go home because his feet were freezing. Now he'll be buying some warmer footwear.
Hike to Sammisoq

Northeast of Sisimiut is a ridge with peaks up to between 600 and 650 m. It's not one of the known hiking destinations and doesn't have marked trails, but it's relatively easy to make your way up there as it doesn't have as steep sections as the popular Palasip Qaqqaa or Nasaasaaq. The views may not be quite as dramatic either, but nevertheless fantastic, and as a bonus you'll likely have the scenery all to yourself. I haven't heard anybody mention the place, but found the name Sammisoq on a map.

When I left Sisimiut, fog was starting to roll in from the sea – a common scenario in late spring through fall. I knew the ridge would be comfortably above the fog, and being a "cloud nerd" I was looking forward to see the fog forming and dissolving and ridges/hilltops appearing as peninsulas/islands with fog shrouding the surrounding valleys and fjords.


Besides spending some time in blissful solitude, basking in the midnight sun, the purpose of the trip was to capture the sun just exactly not setting as Sisimiut is 40 km north of the Arctic Circle. Unfortunately the hills to the north are high enough to obscure the sun (Nasaasaaq is high enough to avoid their shadow), and worse, I underestimated the camera's idle power draw, so the battery died sooner than expected, interrupting the shot. Easily avoidable mistakes challenge my temper, but after walking around in this scenery for hours I couldn't be bothered. I was just grateful to be there and experience it. What could be more important than that?

It was also an opportunity to do a bit of drone practicing. I've got a lot to learn, but thanks to how good drones are nowadays it's still possible to get decent footage with hardly any skill/effort.
I inadvertently went a somewhat different route back to town than I came and ended up farther east on the trail to the UFO. Here I got a gentle reminder that you should be careful venturing out in remote territory, especially if going on your own as I tend to. Accidents do happen, and getting a satellite communication device is on my to-do list.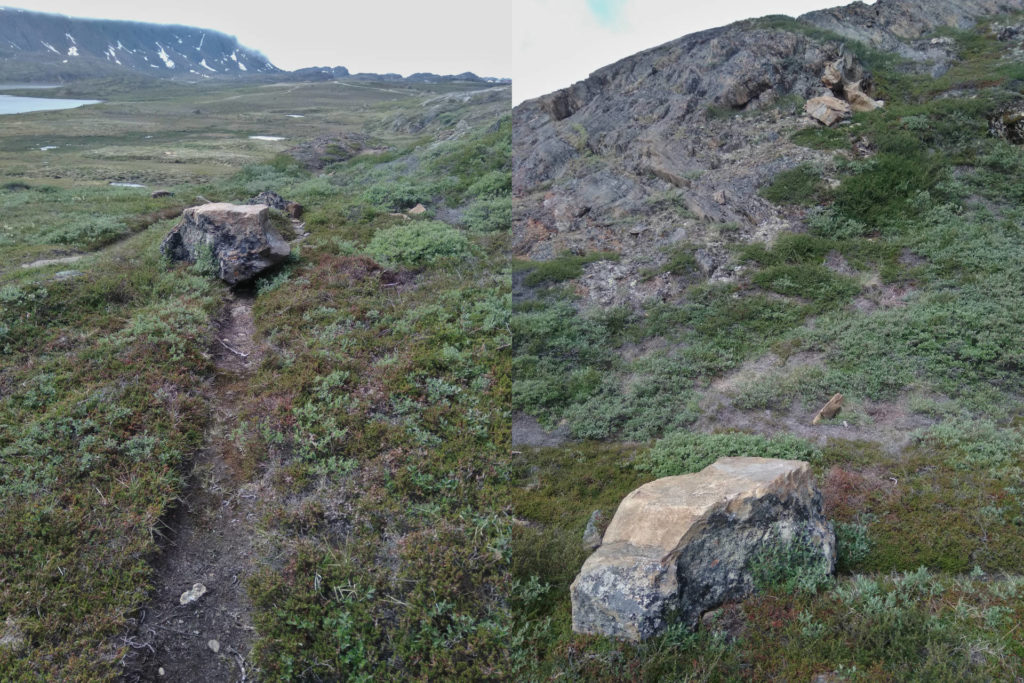 Hike to Assaqutaq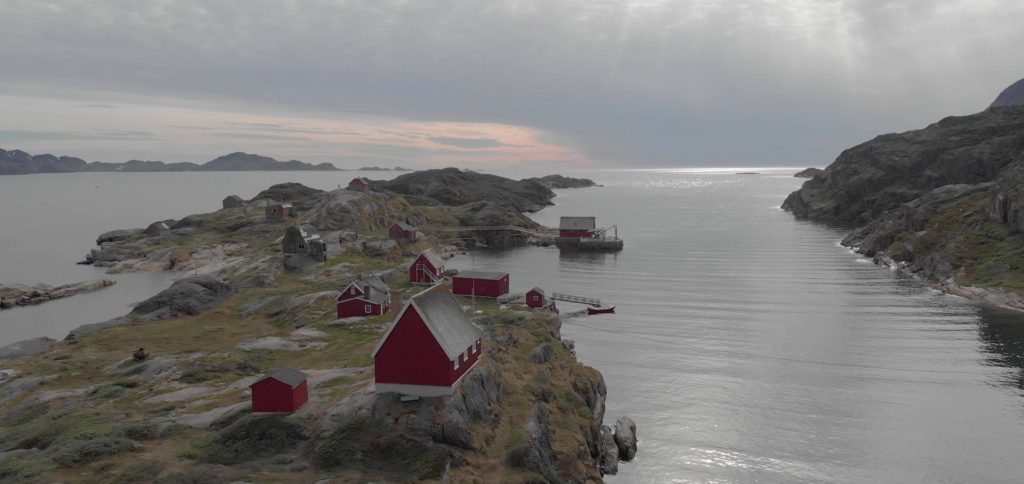 Assaqutaq is an abandoned village southeast of Nasaasaaq. Founded in 1906 as a station for whaling and cod fishery, the population peaked at 135, enough that a school and small chapel were constructed. However, it would only be a few decades before jobs and hence people moved out again, the last leaving in 1969. Today it is a popular hiking/boating destination in the summer and also used as an excursion site for local schools and communities.
There are two possible hiking routes from Sisimiut: On the south side of Nasaasaaq along the Amerloq Fjord (about 11 km) or following the Arctic Circle Trail north of Nasaasaaq and going through a pass (~350m) northeast of Assaqutaq (about 13 km). The south route is a bit more challenging, climbing up and down over rocky sections. It's fine in dry conditions as we had, but when wet the longer route is probably safer. However, the trickiest part is a steep climb down to the village, which can't be avoided either way. It leads down to a narrow strip that only gets flooded at the highest tides. Climb down anywhere else and you'll have to get wet if it's not low tide.
The north route approximately as we hiked it is shown in the map below. A map showing the south route with photos can be found here , courtesy of Visit Sisimiut (similar maps of hiking routes near Sisimiut can be found here). While the south route is marked by colored rocks (we repeatedly lost the trail nevertheless), there is no marked trail through the pass until you reach the Arctic Circle Trail.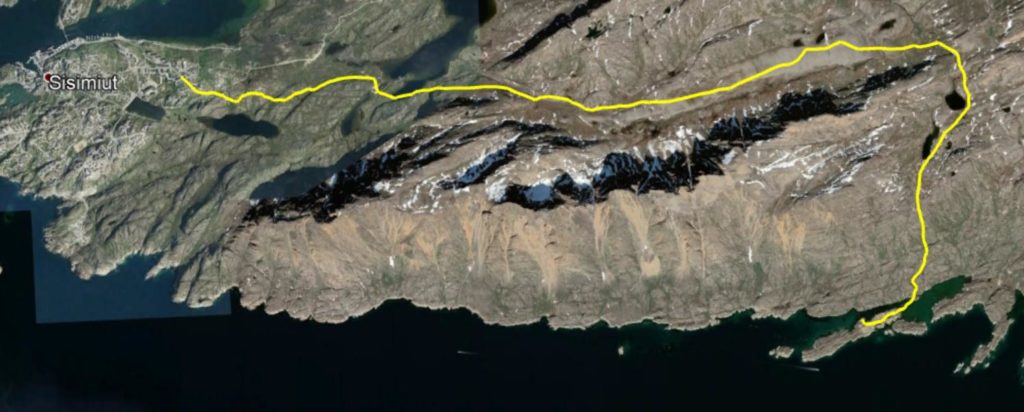 We hiked the south route on the way out, stayed overnight and took the north route on the way home. This was June 15-16, there was no snow (except in few isolated patches) and bugs/mosquitoes were present, but mostly tolerable. We were carrying decent size backpacks, and it took 5-6 hours each way with a few breaks. Meanwhile we could see boats comfortably speeding by below us – it's a 20-30 minute trip by boat.
We slept on a dry loft in an old fish salting facility at the harbor, roomy enough that we could set up tents for mosquito control (doors were missing in both end walls). Some of the buildings in the village are decaying and partly collapsed while others are maintained as rentals for group excursions. For the same reason there's a water hose going to the island, bringing fresh drinking water from a small creek ashore. At least while we were there it was leaking considerably, giving us the opportunity to fill our water bottles.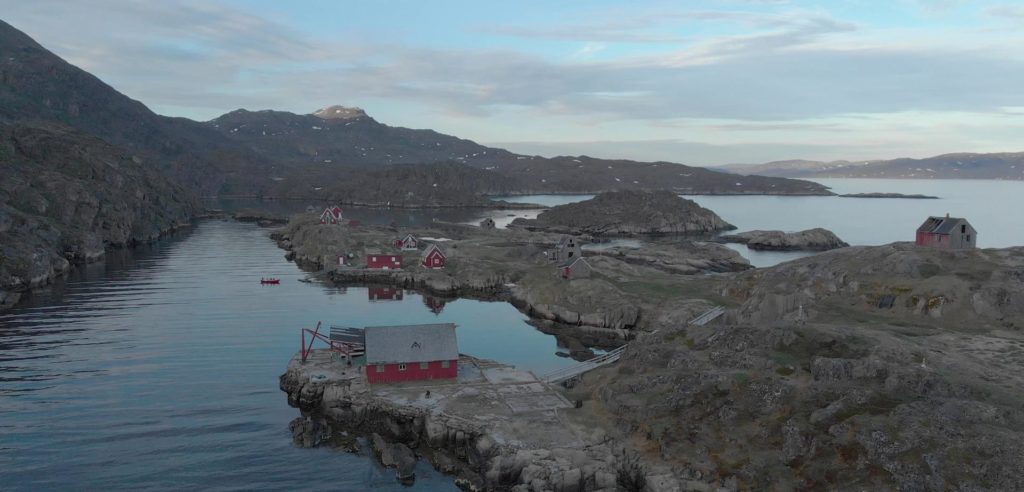 Someone was smart enough to bring a fishing rod instead of food, knowing that the best fishing would be just before high tide in late afternoon after we arrived. After asking advice from other visitors (locals) we fished from the harbor, pulling in cod as we pleased. On top of that we met some other local visitors who had been fishing elsewhere and gave us two big trouts. With hardly any effort we had more fish than we could eat!
Both hiking routes and the village itself feature beautiful scenery, and with some luck you may be able to spot whales coming into Amerloq Fjord to feed on capelin – odds are obviously better if choosing the route along the fjord. Be aware however that some sections may be challenging, especially if wet, and even during dry conditions you may run into short wet or muddy sections. Take care to wear appropriate footwear – I ended up with blue toenails as my new hiking shoes were apparently a tad small, and one of my friends got blisters thanks to cotton socks. Hence our advice would be: Wool socks and worn-in hiking shoes (some might prefer heavier hiking boots).
Aurora – Now in Video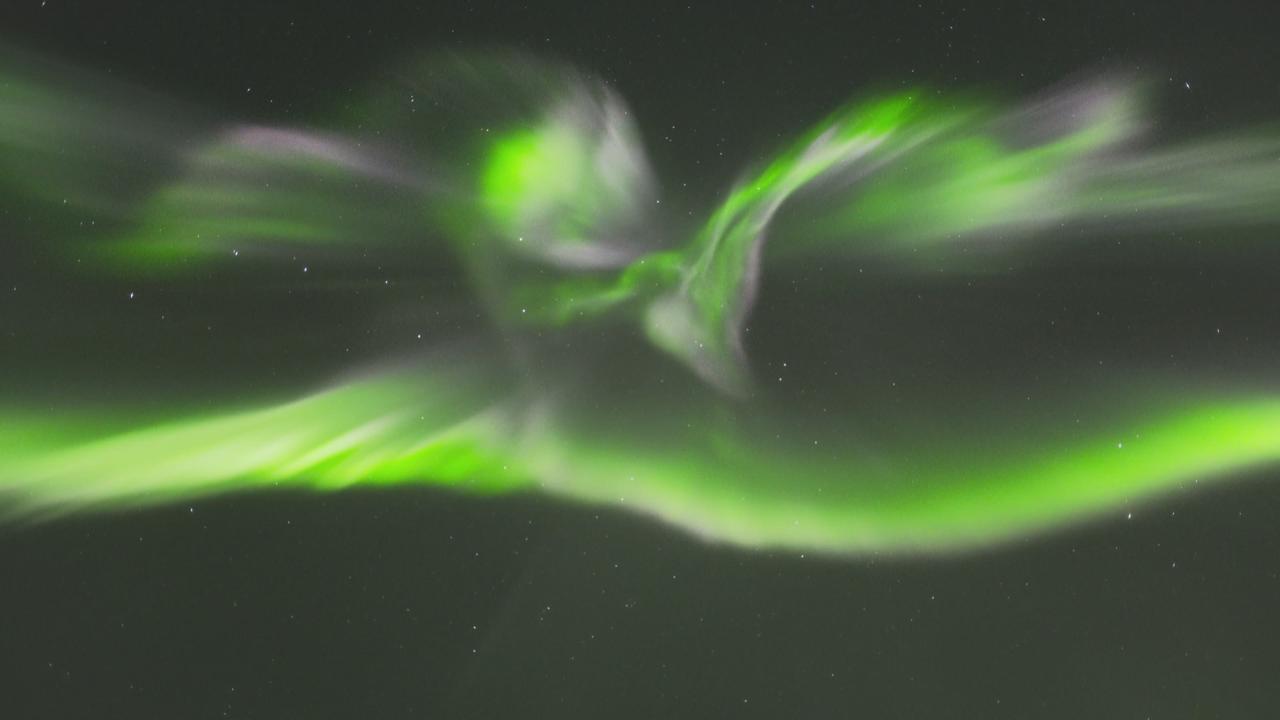 Ever since I got into photography in 2004, timelapse was my medium. It's always fascinating to see what's hidden to the naked eye, and from watching timelapses with clouds I immediately started getting a better sense of weather and the atmosphere. I saw how much local topography affects the weather, how the atmosphere behaves like a fluid and how different cloud formations reveal information I wasn't aware of before.
Aurora soon became my main target though, and most of the time it's a fantastic subject for timelapses. Not only for its beauty, but again timelapse can reveal a lot about the aurora not visible to the naked eye. Back in those days it was also a huge challenge due to limitations imposed by camera technology, and as cameras improved, the progress in quality of aurora timelapses was thrilling. It just kept getting better!
The big letdown in terms of capturing the aurora with timelapse is when it's at its best. Timelapse generally has two limitations: It compresses time (only good for slowly changing subjects) and you're stuck with the camera settings you chose when starting the timelapse (camera manufacturers can remove this limitation at any time – so far they're choosing not to). When the aurora really unfolds it is not only very dynamic, it's also several magnitudes brighter than quiet aurora. Timelapse works well when the aurora is quiet, but during "prime time" timelapse just won't cut it.
The video below is an example of that. From the beginning you want to set a long exposure time to be able to see any of the scenery. But if/when the aurora becomes active it's ruined: The aurora becomes way overexposed, and it changes too fast for timelapse.
Also, many wish to see what the aurora really looks like. That's surprisingly difficult to show, since, as it happens, the ability to see colors in the aurora differs vastly from person to person. But real-time footage of the aurora certainly gets you a lot closer regardless.
When I left Alaska in 2013 there were no commercially available cameras capable of capturing video of the aurora. That changed in 2014 when Sony released the a7s with unprecedented low-light capabilities at an affordable price (for enthusiasts, granted). Further widening the gap, Sigma developed new lenses that were wider, faster and better quality than anything before them. I watched with envy what became possible while I was stuck in a place where stars would almost only be accompanied by light pollution.
It's finally time for me to do real-time video of the aurora too. While I'm not in an ideal location for aurora, there's still some very good action going on if you catch it at the right times. In space physics (and aurora enthusiast) terms that would mean towards the end of substorms.
Below are a few videos of what can be captured beyond where timelapse fails. First a couple of videos continuing from where the timelapse above left off. The active aurora sweeps across the sky from the south, gradually moving north.
The sweet spot is when the action moves overhead. How that turns out is very dependent on location. If you're unlucky it can sweep across fast without much action, and if you're really lucky the active aurora can be "stuck" overhead. The video below shows a normal scenario where there's some overhead action, but it won't last too long.
I've only observed full substorms 3 times from Sisimiut, and they seem to "stop" not too far north of here. Based on this I would guess the Disko Bay area tends to get an extended period of active overhead aurora at the end of substorms. Here's a couple of minutes of active aurora to the north of Sisimiut.
On the downside, the aurora is more varied farther south. In Alaska substorms were mostly followed by pulsating aurora. People here don't know what that is, for a good reason. In timelapses I can recognize it on the southern horizon because I'm already familiar with it. Look closely in the timelapse below – nobody would notice that with the naked eye. It probably wouldn't be what you noticed in this video either if I didn't point it out.
New equipment offers new opportunities. The ability to shoot video of the aurora was a big step forward – next step will be real-time video of the aurora in virtual reality. I'll jump on that when the opportunity arises.
The UFO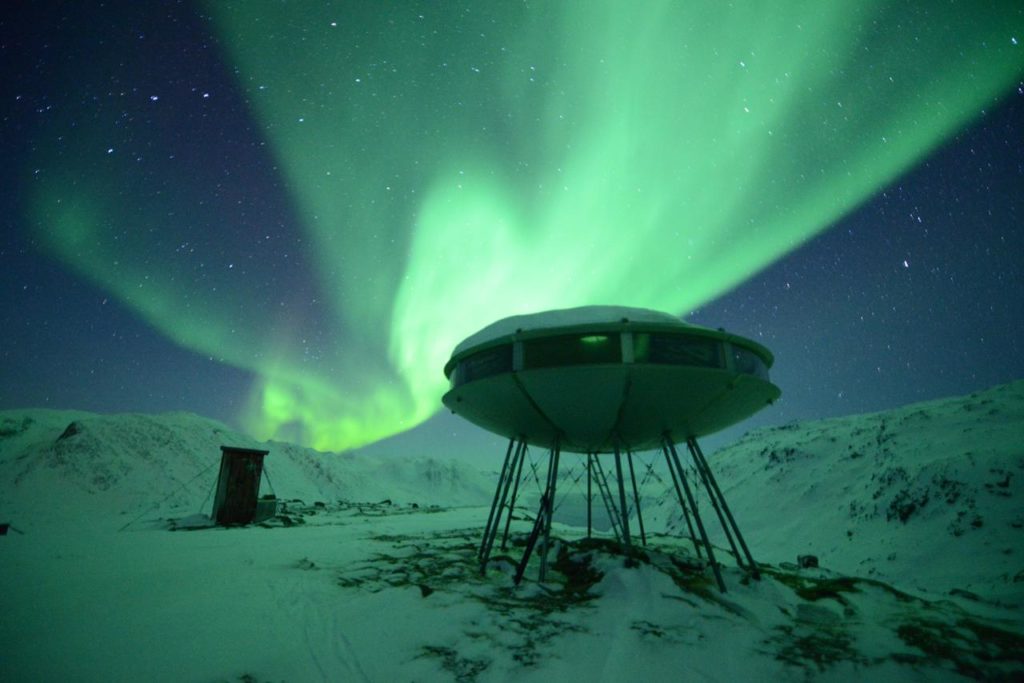 Another popular hiking destination near Sisimiut is the UFO, a public use facility that sleeps up to maybe 15 people. It's about a 12 km / 7 mile hike each way, following a valley and then crossing the ridge north of Sisimiut to get to a point with an excellent view of Kangerluarsuk Tulleq ("Førstefjorden" or "First Inlet"). From the moment I learned about it I was looking forward to go, but couldn't make it until winter. Then I had to ski there since the route goes through an area where snowmobiles are prohibited.
Somewhat to my surprise it's been very cloudy throughout December and January with only few clear days, so one Friday morning (Jan 11) when clear and quiet weather was finally in the forecast for the following night I decided it was time. It would also be an excellent opportunity to test some new cold weather gear with temperatures dipping below -20C/-5F. Unfortunately I had a meeting at noon and couldn't leave until 2.30pm, making it questionable that I'd be able to make it out there before it was dark. A crescent moon low in the sky wouldn't help all that much. My work colleagues were quite concerned about my safety, venturing alone into a remote area I hadn't been to before in those temperatures, possibly with no tracks to follow. But this is the nature of what I do: I grab an opportunity when it arises, and usually nobody's able to go with me. My boss wasn't worried though, helped me get a hold of some skis and sent me on my way.
I only started skiing this winter. The skis were probably too short for the combined load of me and a 20 kg / 45 lbs backpack. It turned out that indeed there were no tracks to follow most of the way, and I'd say the skis were also on the narrow side (68mm) for fresh snow. Not much glide at -20C anyway, so essentially I was just walking on skis, breaking trail and struggling a bit maneuvering on the steeper uphill sections. Fortunately, following a valley there wasn't really any doubt where to go, at least not until getting past the ridge. That's probably just a mile short of the UFO, and I'd been told I could see it from there – except, it had taken me almost 4 hours to get there and it was all dark. But armed with a camera and tripod I could take a photo and spot it in there, I thought. Below is the photo with my view. Indeed, you can see the UFO, marked by the red arrow. Imagine panning around zoomed in on a 3″ LCD to try to identify that. Not a chance! Having your mittens off to handle camera buttons in -20C won't help your patience either.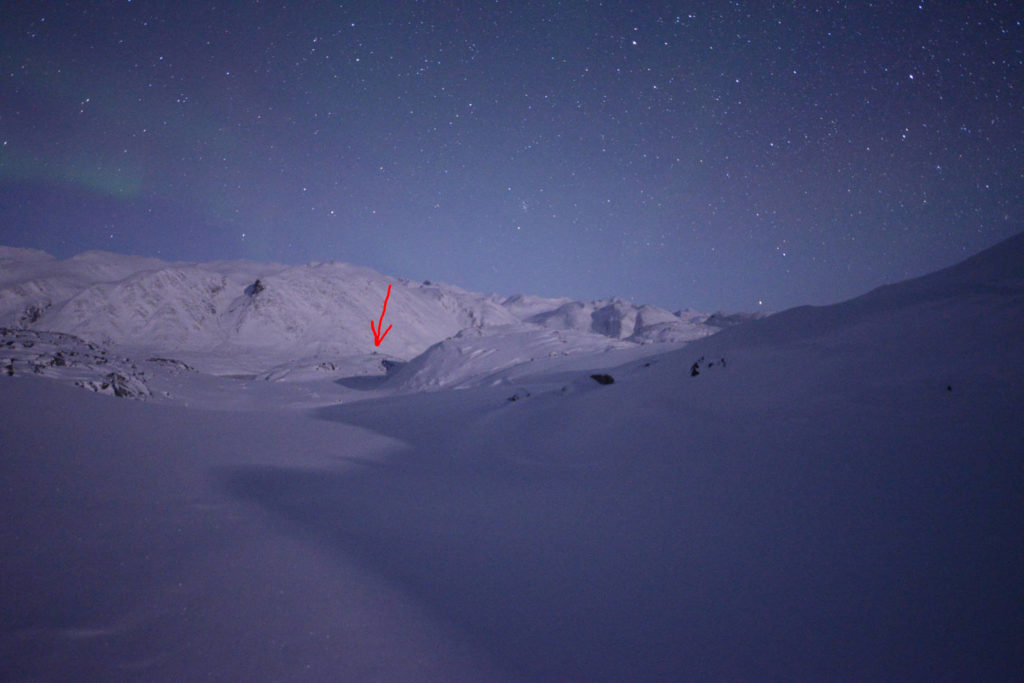 What to do. I was exhausted and getting cold. My heavy down jacket was suitable for the temperatures, but not really for the workout it took to get here – it just wasn't breathable. Perhaps I did fall once or five times too, so moist and snow was a problem. Making my way back to town again was a dreadful thought. Unpacking in the snow to get out my sleeping bag was a dreadful thought. Going down that hill and not finding the UFO was a dreadful thought. But standing there getting cold was probably most dreadful, so the only reasonable choice was really to go down that hill and find the UFO. It had to be close, and I had to get to a point with a view of the inlet. I did spend some time going sideways and scrutinizing photos to no avail before finally committing to going down.
I happened to go pretty much straight there, and what a relief it was once I spotted the silhouette and could identify it with growing confidence. I was pressed. Got into the UFO, unpacked and just wanted to get into my sleeping bag for warmth. But the aurora started coming out, offering the shooting opportunity I came for. It never ceases to amaze me how daunting simple tasks are when you're stressed by the elements. All the effort to get here, and now you don't want to set up a camera? This, the most crucial part of the mission, is little work, yet it often fails. Sometimes you've just had it and can't convince yourself to get back out, and if you do you just want to get it over with, making simple errors all the more likely. And what grief that may cause, coming back home with what you thought was a fantastic shot only to find it unusable because you messed up a camera setting.
Thankfully I did get out and set up the camera, but only once. I should be out making a number of shots on a night like this, but once in my sleeping bag there was no way out. Not that I was sleeping, it wasn't comfortable enough for that. I was moist and had ice-cold water bottles in the bag (lesson learned, must carry them inside jacket), I had a problem inflating my air mattress properly, and I lack a good solution for letting breath escape without getting cold in the face. But oh well, just look at this…



My happiest memories from Alaska are the times I spent in remote wilderness under open skies. This was a reminder of the suffering involved. A lot of the time I was just cold, alone and miserable. Generally the human brain has a bias for remembering the negative, but this is a remarkable case of the opposite. You look back at those experiences and the resulting footage and just feel good. All the suffering is almost forgotten. You want to do it again, though perhaps not for the first week or two.

Juullimi Pilluaritsi!
That's "Merry Christmas y'all" in Greenlandic, and for me it is very merry indeed. As I've been quite busy since arriving to Greenland I was really looking forward to go aurora hunting over my Christmas break. Unfortunately, all the gear I got ready for it matters little when the camera I was going to use is still in the US, thanks to an eBayer who decided to downgrade my shipping from Priority Express to First Class, meaning delivery in January instead of November as promised. Lesson learned: If you actually need something, just don't use eBay. Anyway, it's been all cloudy since my break started, and forecast isn't promising either. So looks like aurora hunting will have to wait.
But clouds can bring about good stuff – good, white, fluffy stuff that is very much appreciated too. A white Christmas is no surprise in Greenland, but this one is extraordinary. Up till now I had the impression it wouldn't snow all that much this far north on the west coast, but it sure can. It started snowing early on Dec 22 and may continue until early on the 25th according to the forecast. Most intense on the 23rd, and by the end of the day my best guess is we had about two feet (60 cm) of new snow – though, it could easily be more. Look at the pictures below and judge yourself! I'm guessing a storm like this is not normal in Sisimiut, but I'll have to talk to some people in the know to find out.
Sisimiut has buses, and here is one of the stops. They run daily 9am-9pm, but it looks like they didn't quite make that today. I wouldn't bother digging my way in there to wait for a bus tomorrow either.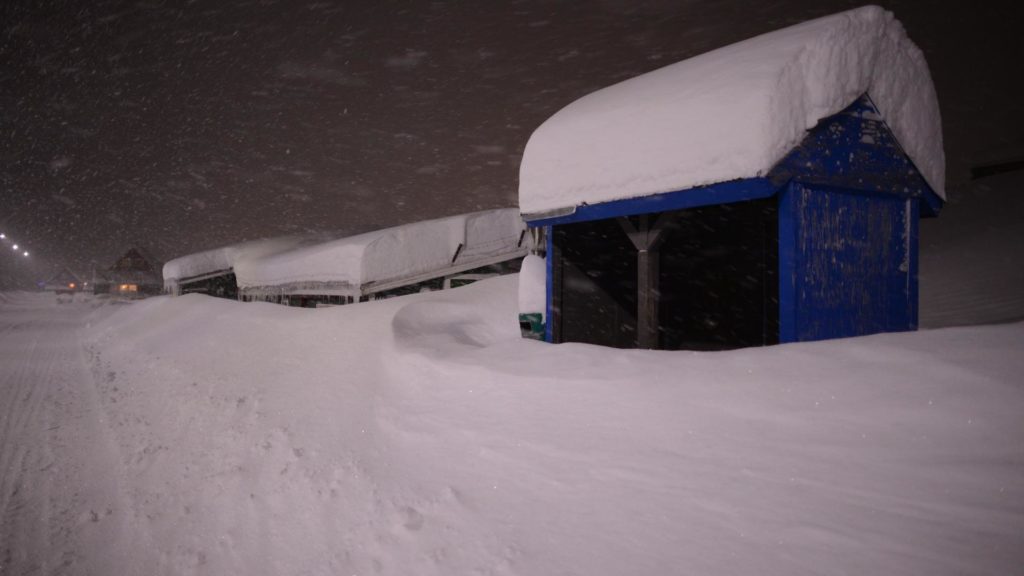 I'm pretty sure these guys are happy with the weather though – Sisimiut Snowmobile Expeditions. Possibly except for whoever gets to clear the snow.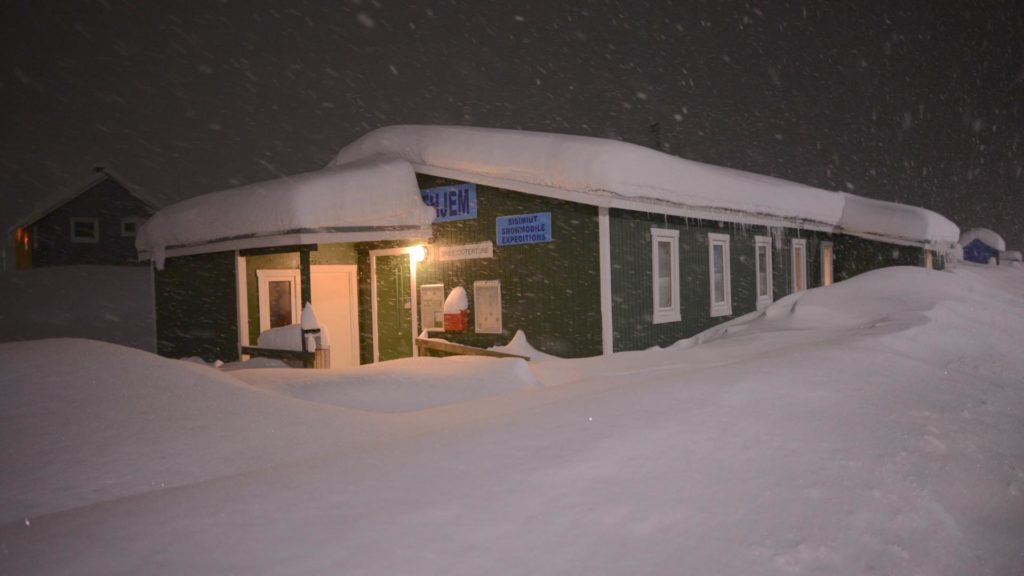 Speaking of snowmobiles, I managed to get a hold of one myself for back country adventures. Folks at home have been asking for pictures of it, and here it is. Never looked better!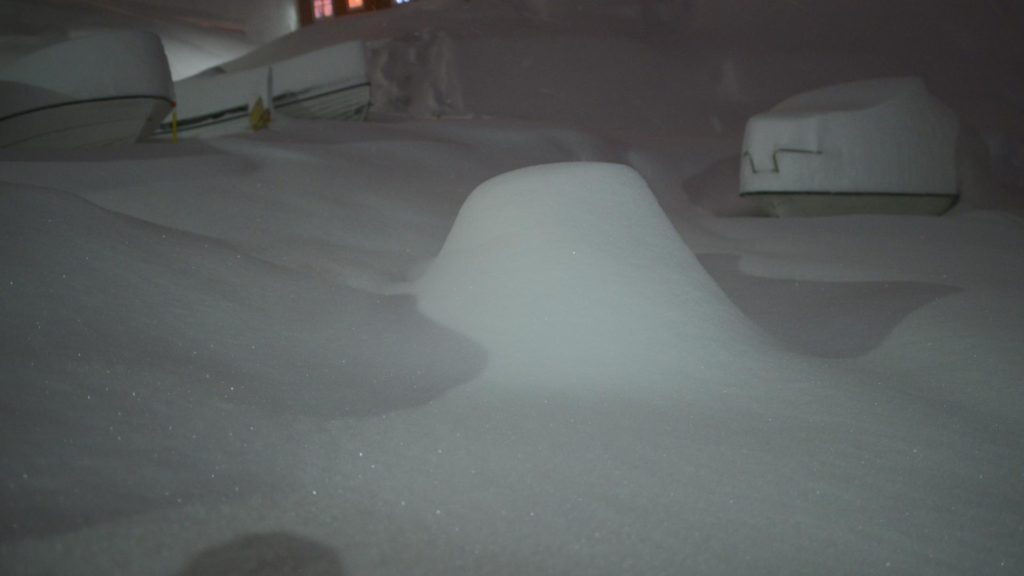 Another item needed for backcountry adventures is a good tent, and I need to learn pitching it in snow. Having checked the tent and watched instruction videos beforehand I thought it might take half an hour to an hour, but was I wrong. Unlike in the instruction videos, this is dry snow, and you can't easily compress that. Forget about ordinary stakes, you need to bury some big, wide snow stakes to keep the tent tight and secured. Well, had it been windy I would have been worried, because it's hard to secure anything in dry snow. Really, it should be deeper than this with a hole dug out for the tent so the stakes could be buried in hard-packed snow. But for this first test it was fine as I had been wise enough to choose a quiet night for it. Actually it was the night it started snowing, but winds didn't kick in until late the next day. Being on skis is also new to me, by the way, so trying to pitch the tent on skis was a challenge too – but I couldn't take them off or I'd ruin the fragile platform I'd spent over an hour trying to make for the tent!
I was surprised to learn that at winter solstice the sun is "up" here in Sisimiut for 1 hour and 37 minutes, knowing that it's just north of the Arctic Circle. So apparently sunrise and sunset are when the upper limb of the solar disc is at the horizon, meaning that we'd see the sun on the horizon for 1.5 hours, rising to a point where just under half of the disc is visible before setting again. Hills and mountains obscure the view most of the way though, and this year we had a low, heavy cloud cover for a week around solstice. That makes for some pretty dark days, which can be depressing. Then suddenly there's just a bit of a break in the clouds and you're treated to a view like this – that makes up for a lot.
As for the aurora, I've seen some every now and then. It can be very nice, though not surprisingly my impression is that it isn't as dynamic and variable up here as farther south. I did see one nice substorm though, so I'm hoping for more of that once I get my better camera. Below is a video with the kind of aurora we typically get here on one of the better nights.
Looking forward to get out and shoot some more, though Christmas break won't offer me the opportunities I had hoped. After that I won't have much time the rest of the aurora season. Right now it's all forgiven though. Snow makes me happy, and this may just be the best snow storm I've experienced yet. Just in time for Christmas…
Sisimiut: Some First Impressions
Sisimiut is a town of ~5,500 people. Everything but the airport is within walking distance, and there are no roads out of town, so the number of cars and taxis is surprising – apparently it was quite different just 15 years ago. I prefer bike for many reasons, though what I've seen so far leaves me concerned about traffic safety, especially during winter. I actully got myself a bike helmet, which I wouldn't consider in Denmark. Besides drivers who are not exactly careful, the other challenge I see coming is the combination of icy roads and steep hills all over the place.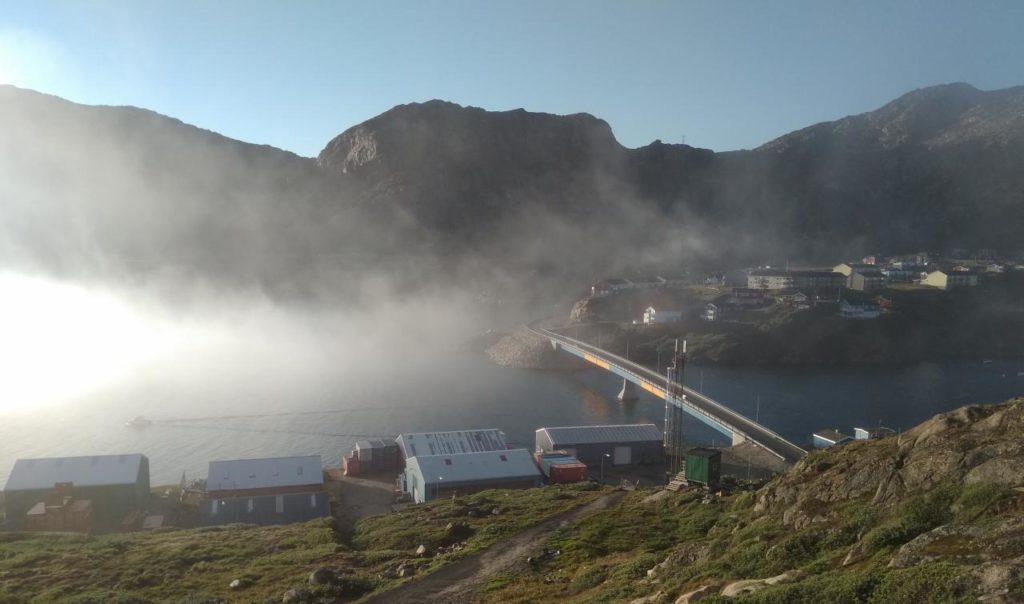 Greenland's longest bridge, going to the airport and a new residential area under development.
Greenland is a place of beauty and challenges. It's brightly colored buildings on a backdrop of spectacular scenery. It's also dumps where trash is left uncontained and unfiltered waste water outlets. I'll stick to showing the first part.


Getting supplies to a small, remote community is expensive. Vegetable prices reflect this, and you'll want to consider shifting towards cheaper frozen vegetables. Potato prices in particular are going to hurt until I get used to it. This is $2.10/lb. Fortunately they're often on sale. Unfortunately, when they're on sale they often don't have any. That's true for much more than potatoes, by the way.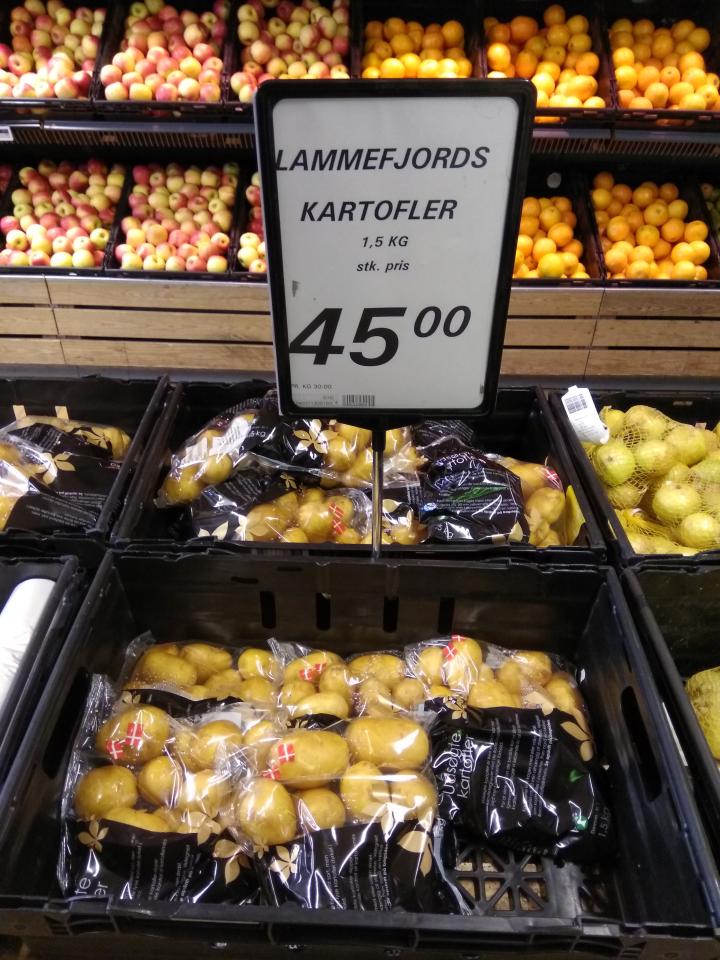 This should eventually be of interest to me: Sisimiut just got a nice artificial football pitch.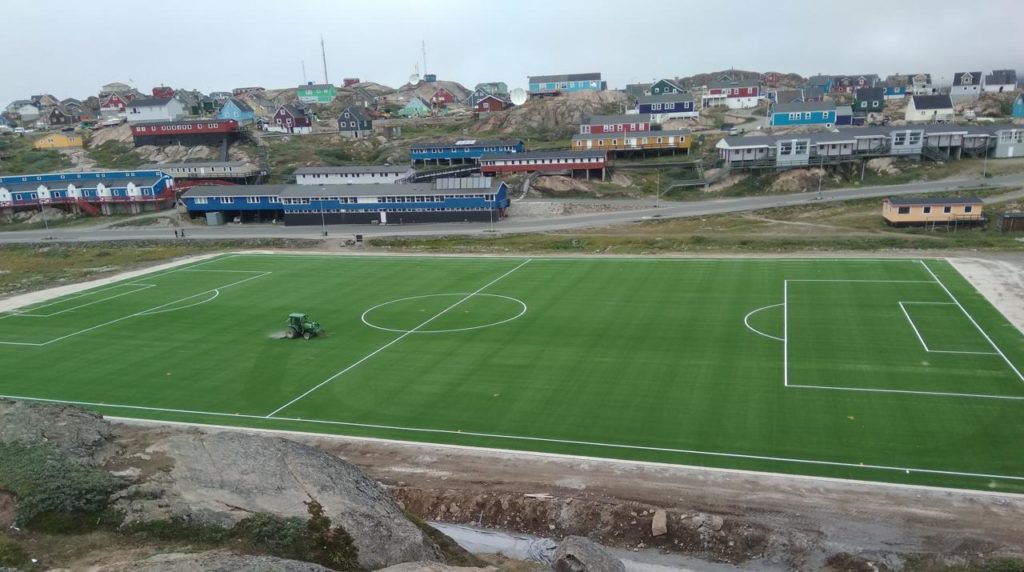 Now for the nerdy stuff… I once noticed a 120° parhelion in Alaska. Apparently they're not rare, just hard to spot. Well, here I've already seen them twice, one of them too bright to go unnoticed. Perhaps random, or perhaps somehow good ice halo displays are more frequent up here.


The aurora – I'm looking much forward to spending some time observing it and get a sense for how it compares to that at lower latitudes. What I've seen so far looks good; here's a quick timelapse (Aug 26 2018).
Finally, a couple of harbor traffic timelapses – just for fun.
2nd Hike: Nasaasaaq
Another popular hiking destination is the hallmark of Sisimiut and the highest point in the immediate vicinity of town: Nasaasaaq (Kællingehætten, 784m/2,572ft). It is a longer and harder hike than Palasip Qaqqaa, but it is absolutely worth the effort and doable for most. That said, the final ascent of the 150m cone at the top does deter some people as you need to climb two ropes and pass a relatively narrow and exposed section near the top. You certainly need to be careful and pay attention climbing the cone, particularly on the way down – otherwise the risk of losing your footing and ending up in hospital is quite real. Another risk on the way down is that you can follow a number of paths, a few of which are blind, ending on steep cliffs. Do turn around before you get yourself into trouble! We were lucky to meet a helpful local resident on the way up and were in good hands the rest of the way.

Again, the weapon of choice on this hike was the smartphone for quick, easy panoramas, so image quality isn't top notch – but good enough to show that it's gorgeous out there. This was another of the few days with great weather this summer (August 12) and not too many bugs either, making for a very enjoyable hike.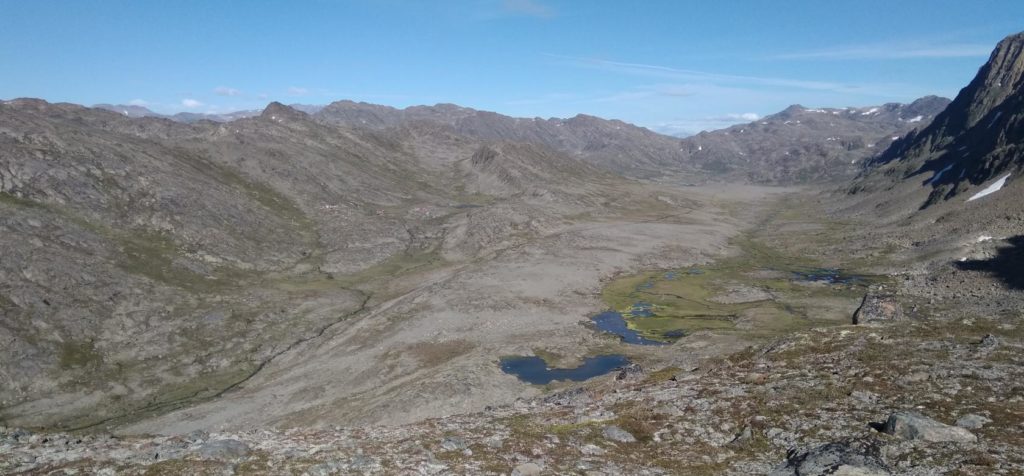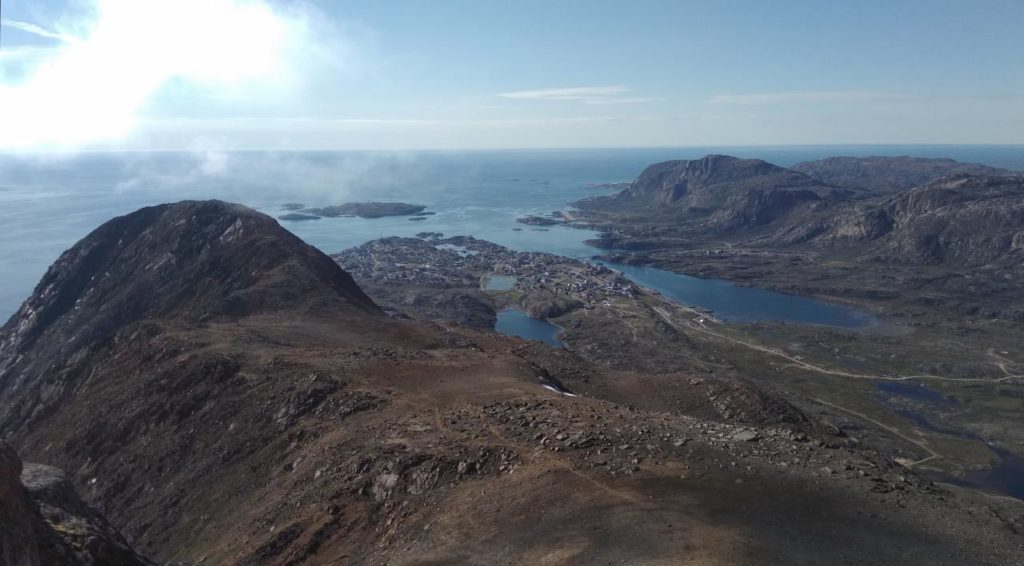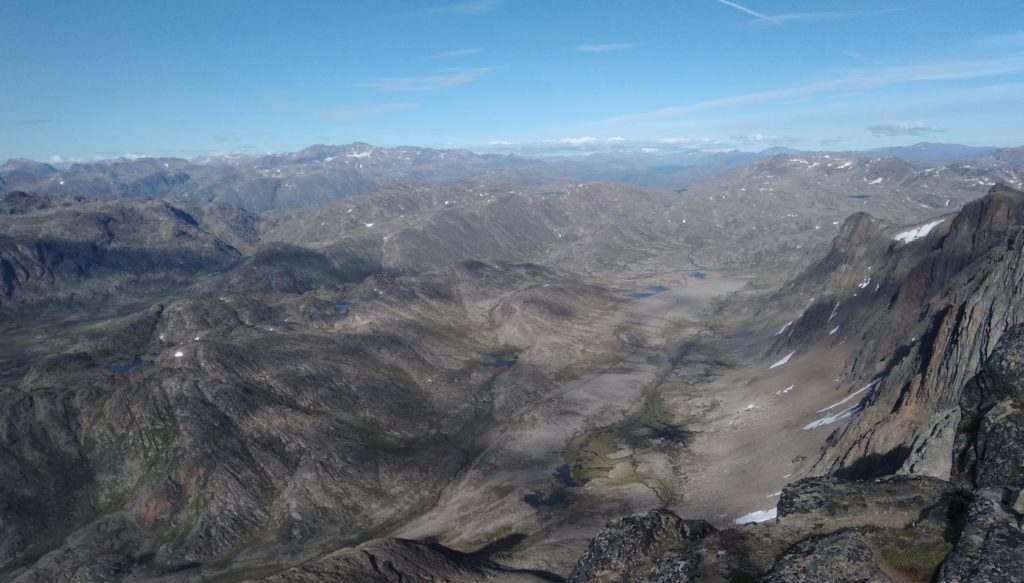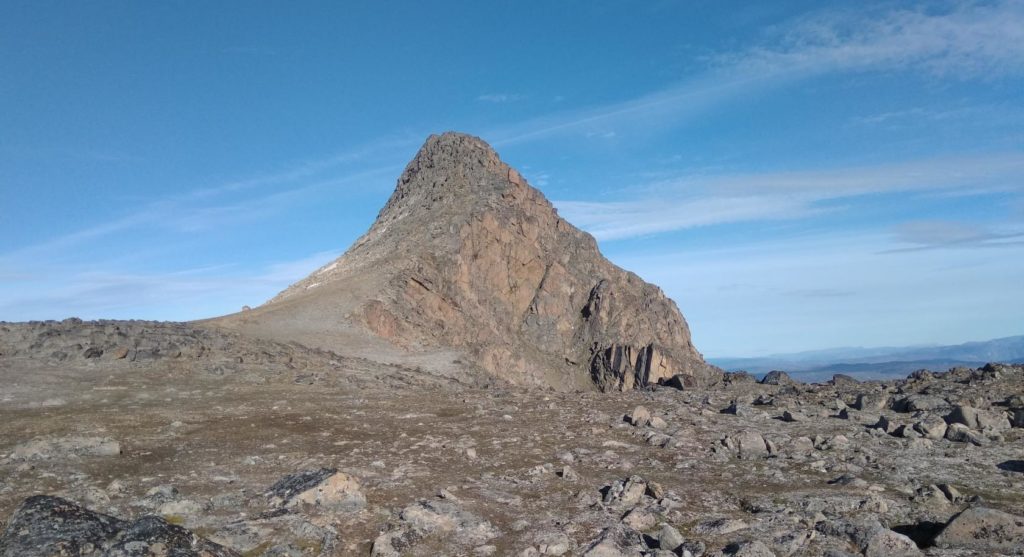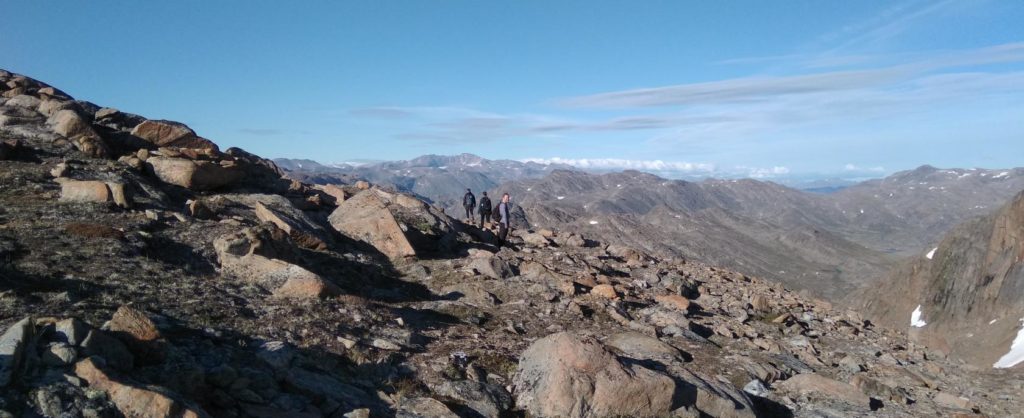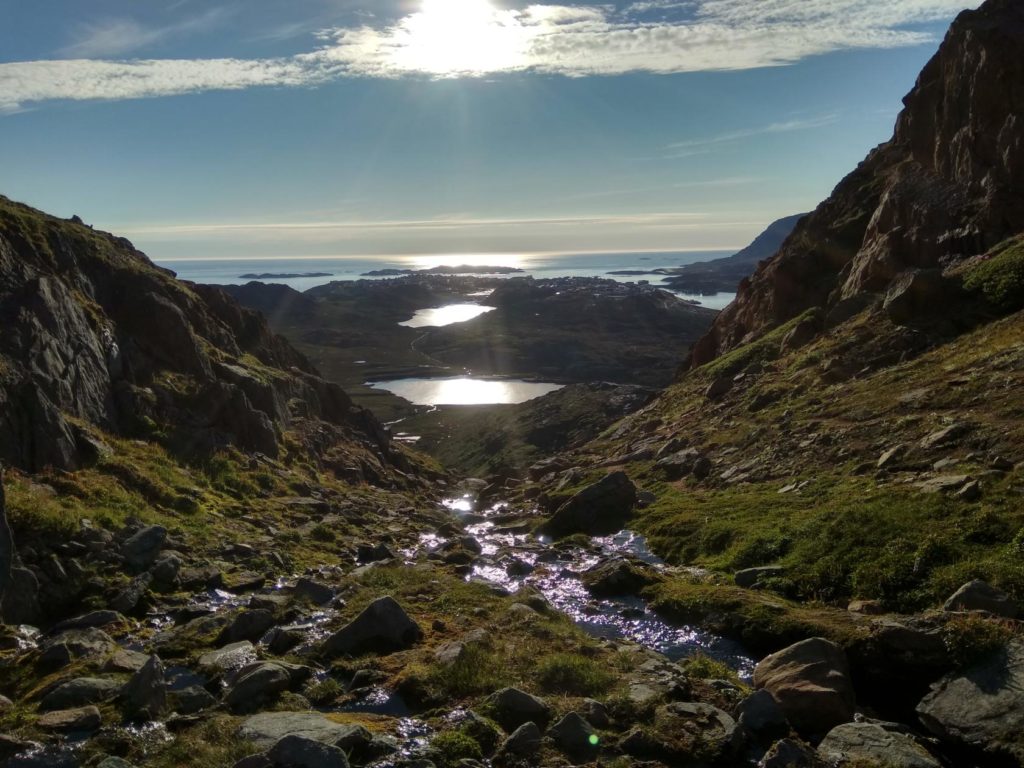 At the top we met a drone pilot in action, shooting footage for Visit Greenland. He was kind enough to snap a couple of group photos and email to us.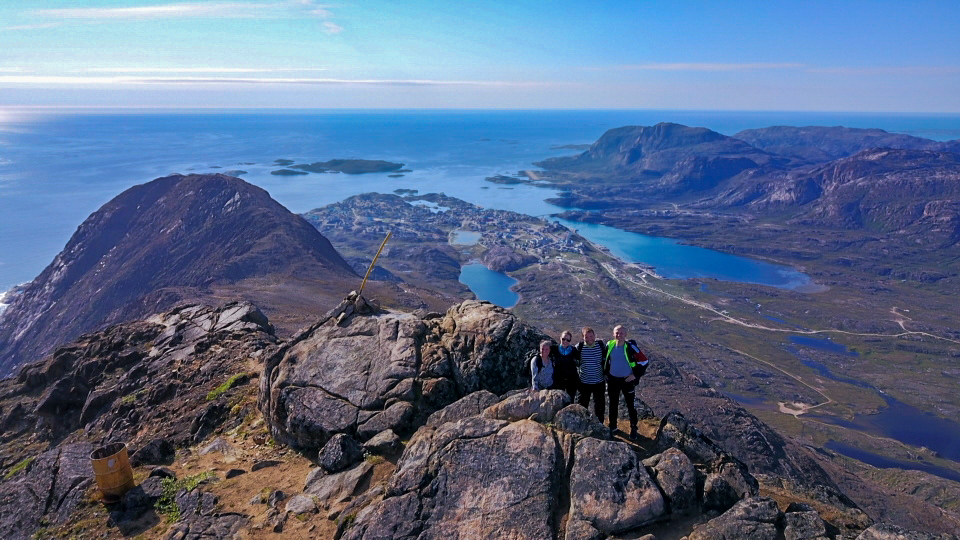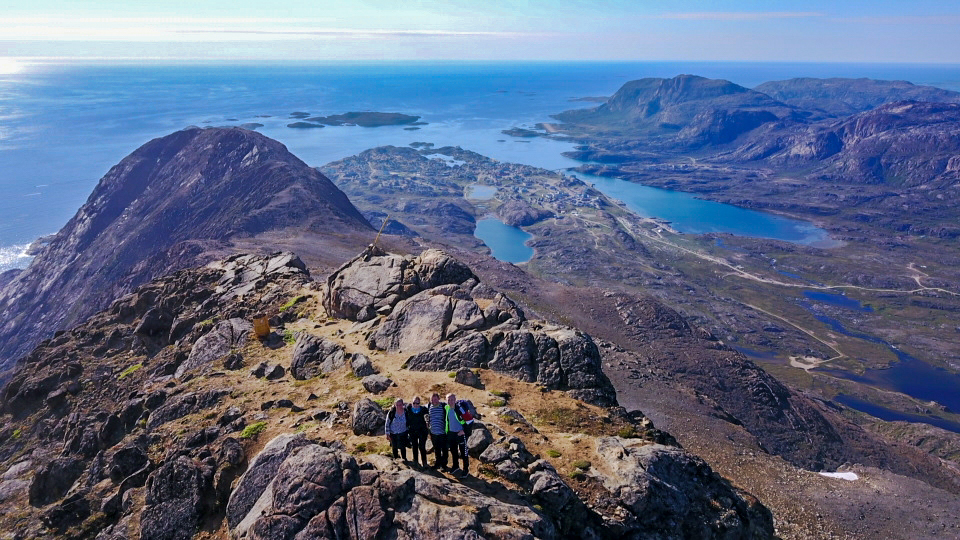 1st Hike: Palasip Qaqqaa
An obvious first target for hiking around Sisimiut is Palasip Qaqqaa (Præstefjeldet or Priest's Mountain), the highest hilltop immediately north of town (544m/1785ft). Easily accessible from the road to the airport and with fantastic views that just keep getting better as you climb in altitude. It's a relatively easy hike in good weather, though it does of course take a bit of stamina to make it to the top. This is from August 5 2018, one of the few days with excellent weather here this summer. The following are just quick and easy smartphone panoramas – forgive the so-so image quality and some obvious artifacts. I promise I'll post better quality stuff when I get more time with my camera. 😉









Three weeks later I did the same hike and took the time to shoot a timelapse at the top, showing the fog/clouds that is often shrouding these hilltops when winds are from the north. Remarkably, even though it's clearly windy it was actually quiet at the top! You only had to move to the edge of the hillside to the north to pick up the wind, and that's how I realized what was happening. The strong wind is forced up along the steep hillside and "overshoots", hence creating a "bump" (wave crest) over the hill that blocks the horizontal wind right at the top, diverting it to higher altitude. A pleasant surprise!

Astralis Productions moves to Greenland
Astralis Productions was born out of inspiration from remote arctic nature and the aurora. I've now spent 5 years in Denmark during which I released Beneath the Aurora, but couldn't shoot any new production-quality footage – something I've missed a lot. So I'm very happy to announce that I grabbed the opportunity to move to Greenland, where I just started as a high school teacher in Sisimiut.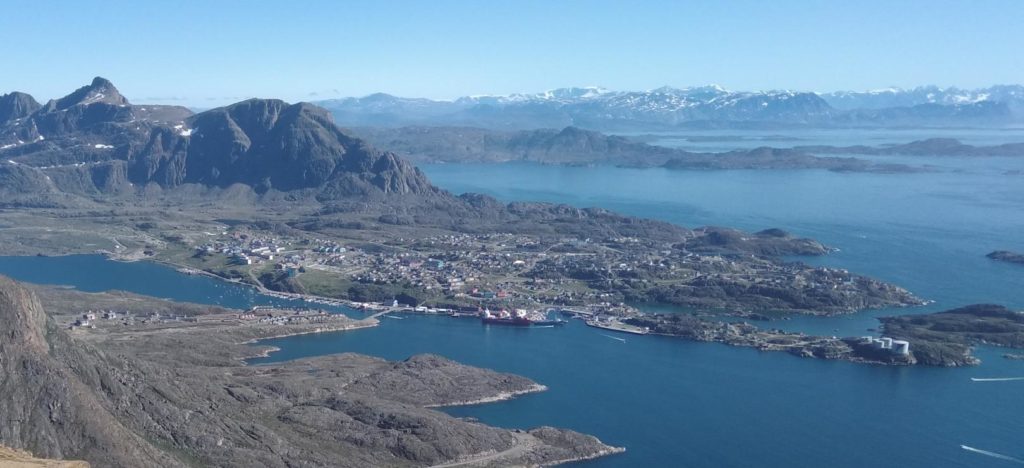 Sisimiut is located on the west coast of Greenland just north of the arctic circle and 160km/100mi from the ice sheet. That is just about the farthest you can get from the ice sheet in Greenland at all, and it is access point to the largest backcountry area in Greenland. You'll have to go by boat, snowmachine, dog sled or foot/ski to enjoy it though as there are no roads outside a few miles from Sisimiut.
Because the magnetic pole tilts towards Greenland, Sisimiut is much farther north magnetically than I was shooting footage in Alaska. In fact, in Greenland it is opposite to (almost) everywhere else in the northern hemisphere: The farther south you go, the better the aurora (generally). I'm quite curious to see how frequent the aurora appears and in what ways it is different from the aurora farther south, but having just had my first glimpse of the aurora last night I can already say that there will be plenty of opportunities to shoot great footage – if only I can find the time for it.
I'm here as a teacher first, photographer second. I expect at least the first year of teaching to be very demanding, and I also need a lot of equipment I don't have money for yet, so there's no new film right around the corner. I'm hoping to gradually start to collect footage that could be used in a production down the road – perhaps in a few years time.
Meanwhile I'll use this blog as a more personal outlet for posting stories and photos to share with family and friends – but anyone interested is of course welcome to tag along and see what I'm up to here in Sisimiut.