The UFO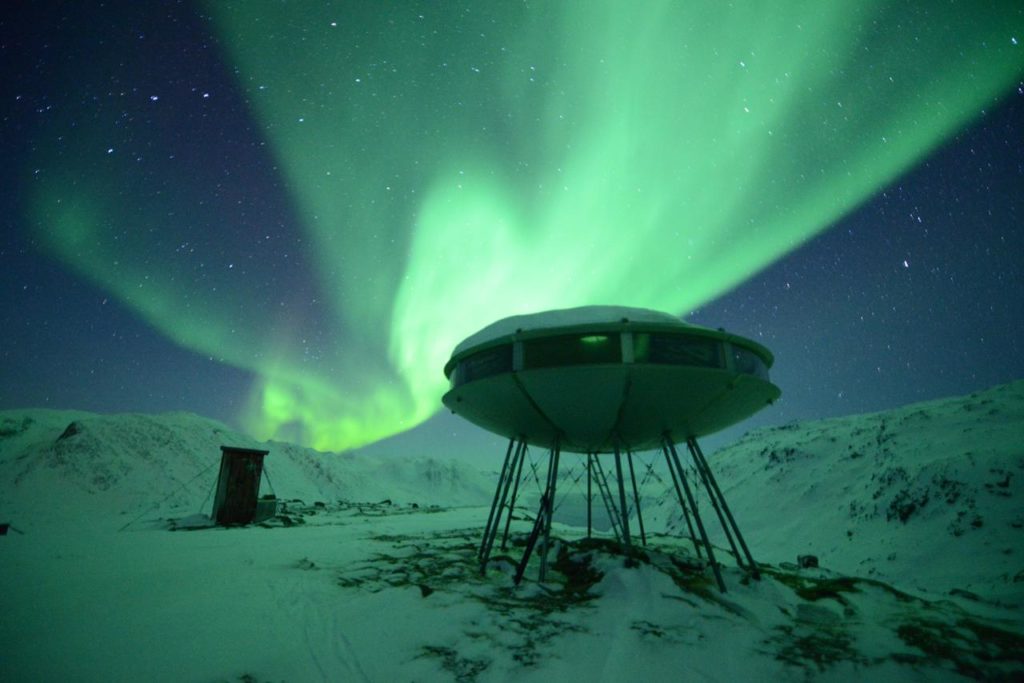 Another popular hiking destination near Sisimiut is the UFO, a public use facility that sleeps up to maybe 15 people. It's about a 12 km / 7 mile hike each way, following a valley and then crossing the ridge north of Sisimiut to get to a point with an excellent view of Kangerluarsuk Tulleq ("Førstefjorden" or "First Inlet"). From the moment I learned about it I was looking forward to go, but couldn't make it until winter. Then I had to ski there since the route goes through an area where snowmobiles are prohibited.
Somewhat to my surprise it's been very cloudy throughout December and January with only few clear days, so one Friday morning (Jan 11) when clear and quiet weather was finally in the forecast for the following night I decided it was time. It would also be an excellent opportunity to test some new cold weather gear with temperatures dipping below -20C/-5F. Unfortunately I had a meeting at noon and couldn't leave until 2.30pm, making it questionable that I'd be able to make it out there before it was dark. A crescent moon low in the sky wouldn't help all that much. My work colleagues were quite concerned about my safety, venturing alone into a remote area I hadn't been to before in those temperatures, possibly with no tracks to follow. But this is the nature of what I do: I grab an opportunity when it arises, and usually nobody's able to go with me. My boss wasn't worried though, helped me get a hold of some skis and sent me on my way.
I only started skiing this winter. The skis were probably too short for the combined load of me and a 20 kg / 45 lbs backpack. It turned out that indeed there were no tracks to follow most of the way, and I'd say the skis were also on the narrow side (68mm) for fresh snow. Not much glide at -20C anyway, so essentially I was just walking on skis, breaking trail and struggling a bit maneuvering on the steeper uphill sections. Fortunately, following a valley there wasn't really any doubt where to go, at least not until getting past the ridge. That's probably just a mile short of the UFO, and I'd been told I could see it from there – except, it had taken me almost 4 hours to get there and it was all dark. But armed with a camera and tripod I could take a photo and spot it in there, I thought. Below is the photo with my view. Indeed, you can see the UFO, marked by the red arrow. Imagine panning around zoomed in on a 3″ LCD to try to identify that. Not a chance! Having your mittens off to handle camera buttons in -20C won't help your patience either.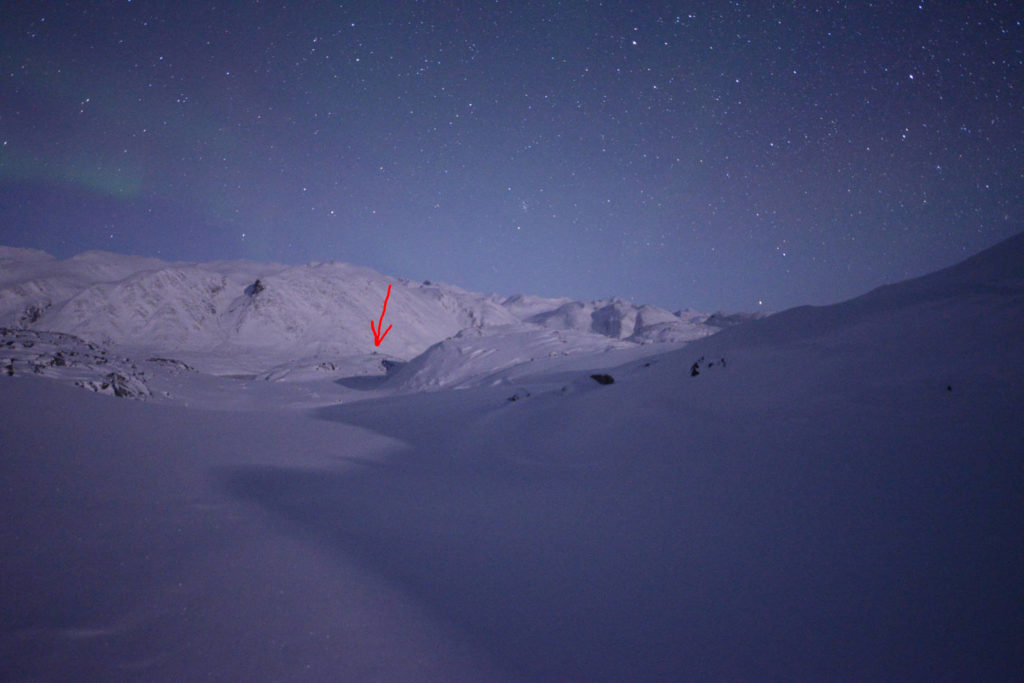 What to do. I was exhausted and getting cold. My heavy down jacket was suitable for the temperatures, but not really for the workout it took to get here – it just wasn't breathable. Perhaps I did fall once or five times too, so moist and snow was a problem. Making my way back to town again was a dreadful thought. Unpacking in the snow to get out my sleeping bag was a dreadful thought. Going down that hill and not finding the UFO was a dreadful thought. But standing there getting cold was probably most dreadful, so the only reasonable choice was really to go down that hill and find the UFO. It had to be close, and I had to get to a point with a view of the inlet. I did spend some time going sideways and scrutinizing photos to no avail before finally committing to going down.
I happened to go pretty much straight there, and what a relief it was once I spotted the silhouette and could identify it with growing confidence. I was pressed. Got into the UFO, unpacked and just wanted to get into my sleeping bag for warmth. But the aurora started coming out, offering the shooting opportunity I came for. It never ceases to amaze me how daunting simple tasks are when you're stressed by the elements. All the effort to get here, and now you don't want to set up a camera? This, the most crucial part of the mission, is little work, yet it often fails. Sometimes you've just had it and can't convince yourself to get back out, and if you do you just want to get it over with, making simple errors all the more likely. And what grief that may cause, coming back home with what you thought was a fantastic shot only to find it unusable because you messed up a camera setting.
Thankfully I did get out and set up the camera, but only once. I should be out making a number of shots on a night like this, but once in my sleeping bag there was no way out. Not that I was sleeping, it wasn't comfortable enough for that. I was moist and had ice-cold water bottles in the bag (lesson learned, must carry them inside jacket), I had a problem inflating my air mattress properly, and I lack a good solution for letting breath escape without getting cold in the face. But oh well, just look at this…



My happiest memories from Alaska are the times I spent in remote wilderness under open skies. This was a reminder of the suffering involved. A lot of the time I was just cold, alone and miserable. Generally the human brain has a bias for remembering the negative, but this is a remarkable case of the opposite. You look back at those experiences and the resulting footage and just feel good. All the suffering is almost forgotten. You want to do it again, though perhaps not for the first week or two.