Hike to Assaqutaq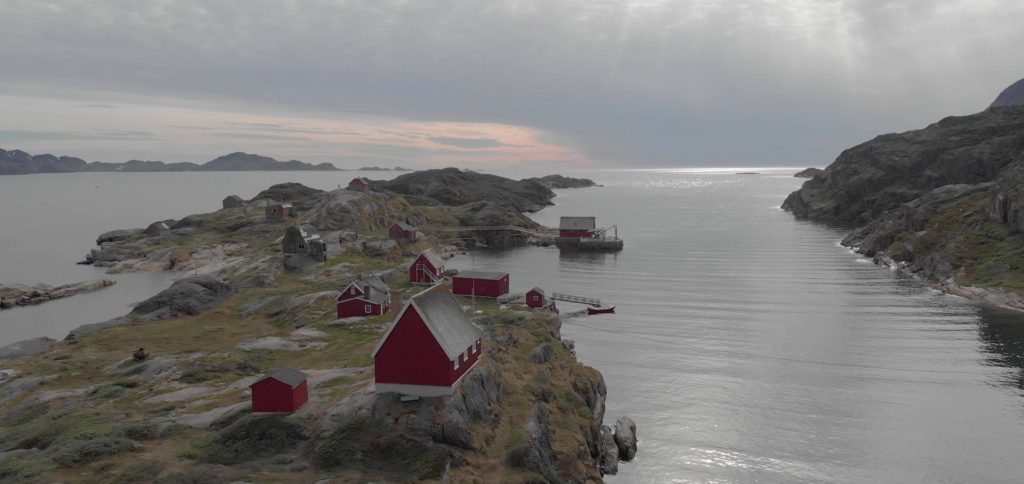 Assaqutaq is an abandoned village southeast of Nasaasaaq. Founded in 1906 as a station for whaling and cod fishery, the population peaked at 135, enough that a school and small chapel were constructed. However, it would only be a few decades before jobs and hence people moved out again, the last leaving in 1969. Today it is a popular hiking/boating destination in the summer and also used as an excursion site for local schools and communities.
There are two possible hiking routes from Sisimiut: On the south side of Nasaasaaq along the Amerloq Fjord (about 11 km) or following the Arctic Circle Trail north of Nasaasaaq and going through a pass (~350m) northeast of Assaqutaq (about 13 km). The south route is a bit more challenging, climbing up and down over rocky sections. It's fine in dry conditions as we had, but when wet the longer route is probably safer. However, the trickiest part is a steep climb down to the village, which can't be avoided either way. It leads down to a narrow strip that only gets flooded at the highest tides. Climb down anywhere else and you'll have to get wet if it's not low tide.
The north route approximately as we hiked it is shown in the map below. A map showing the south route with photos can be found here , courtesy of Visit Sisimiut (similar maps of hiking routes near Sisimiut can be found here). While the south route is marked by colored rocks (we repeatedly lost the trail nevertheless), there is no marked trail through the pass until you reach the Arctic Circle Trail.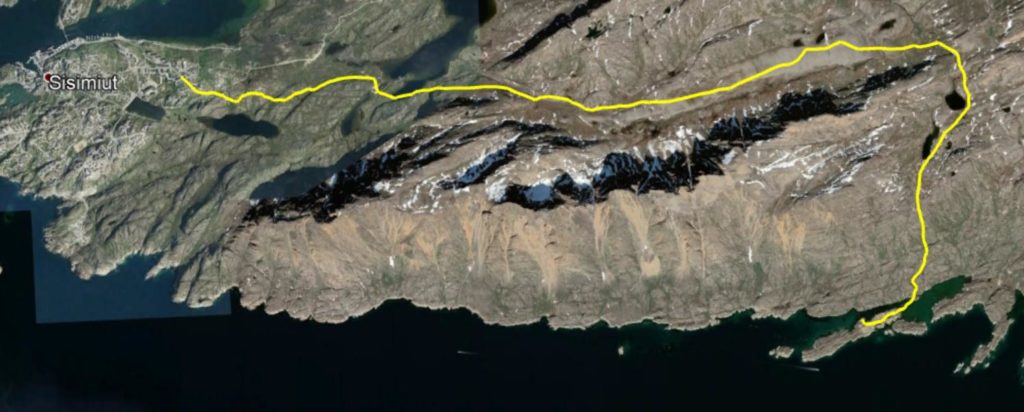 We hiked the south route on the way out, stayed overnight and took the north route on the way home. This was June 15-16, there was no snow (except in few isolated patches) and bugs/mosquitoes were present, but mostly tolerable. We were carrying decent size backpacks, and it took 5-6 hours each way with a few breaks. Meanwhile we could see boats comfortably speeding by below us – it's a 20-30 minute trip by boat.
We slept on a dry loft in an old fish salting facility at the harbor, roomy enough that we could set up tents for mosquito control (doors were missing in both end walls). Some of the buildings in the village are decaying and partly collapsed while others are maintained as rentals for group excursions. For the same reason there's a water hose going to the island, bringing fresh drinking water from a small creek ashore. At least while we were there it was leaking considerably, giving us the opportunity to fill our water bottles.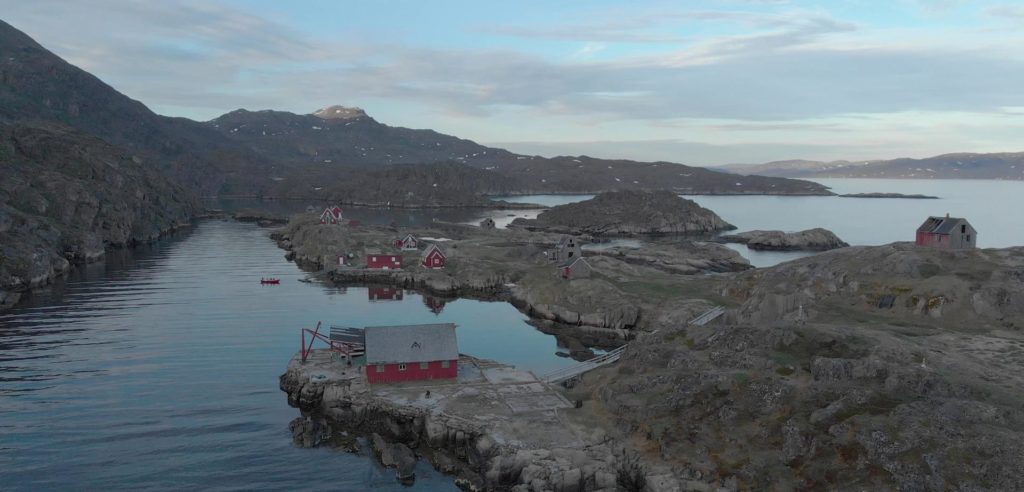 Someone was smart enough to bring a fishing rod instead of food, knowing that the best fishing would be just before high tide in late afternoon after we arrived. After asking advice from other visitors (locals) we fished from the harbor, pulling in cod as we pleased. On top of that we met some other local visitors who had been fishing elsewhere and gave us two big trouts. With hardly any effort we had more fish than we could eat!
Both hiking routes and the village itself feature beautiful scenery, and with some luck you may be able to spot whales coming into Amerloq Fjord to feed on capelin – odds are obviously better if choosing the route along the fjord. Be aware however that some sections may be challenging, especially if wet, and even during dry conditions you may run into short wet or muddy sections. Take care to wear appropriate footwear – I ended up with blue toenails as my new hiking shoes were apparently a tad small, and one of my friends got blisters thanks to cotton socks. Hence our advice would be: Wool socks and worn-in hiking shoes (some might prefer heavier hiking boots).